Students In Crisis Supports & Resources
If you or someone you know is in crisis, call or text 988 to reach the Suicide and Crisis Lifeline, or text HOME to 741741. If this is an emergency, call 911.
Suicidal behaviors are a psychiatric emergency. If you or a loved one exhibits these behaviors, seek immediate help from a health care provider or call 988.
988 Suicide & Crisis Lifeline
Call or text 988; https://988lifeline.org/
The 988 Suicide & Crisis Lifeline (formerly known as the National Suicide Prevention Lifeline) is a national network of local crisis centers that provides free and confidential emotional support to people in suicidal crisis or emotional distress 24 hours a day, 7 days a week in the United States. The Lifeline provides free and confidential support for people in distress, prevention and crisis resources for you or your family.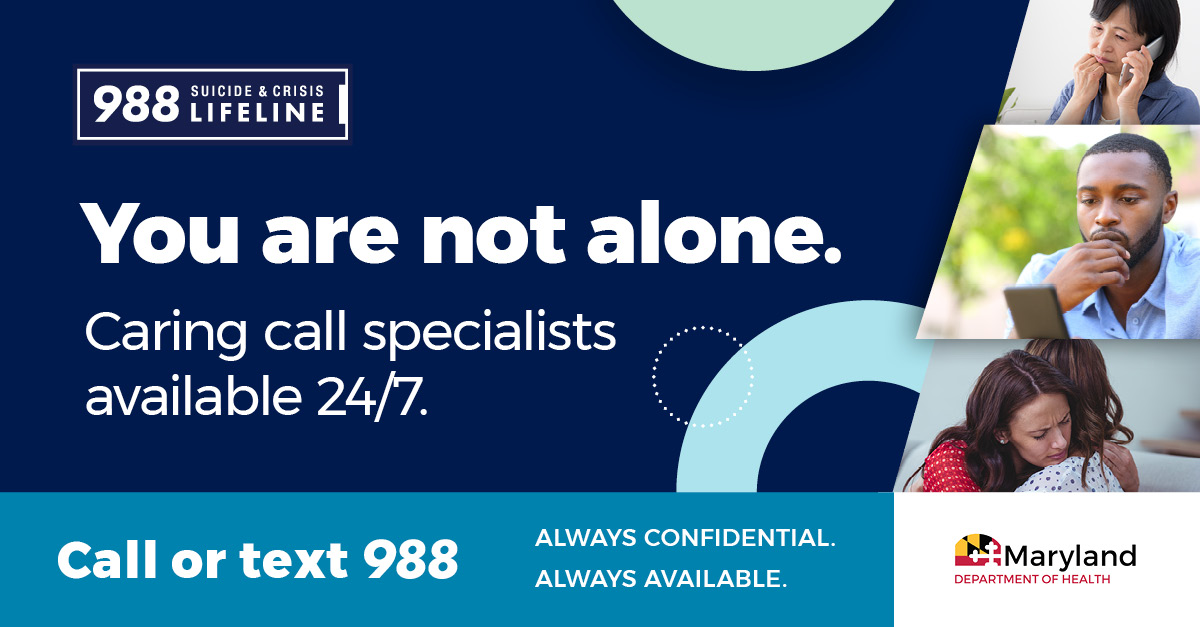 HCPSS Supports
Parents/guardians, family members or friends who are concerned about a child/student's safety, well-being or health may always reach out to their school administrator and/or student support team.
HCPSS strives to give all students comprehensive support, with every adult serving a role in students' social-emotional well-being. The school system embeds mental health supports throughout the instructional program and embraces community and family partnerships. This approach better equips HCPSS to help each child thrive socially, academically and emotionally. View the HCPSS Model for Mental Health Supports in Schools.
HCPSS student supports include, but are not limited to, psychological services, school counseling, school social workers, Pupil Personnel Services, and support for families experiencing homelessness.
Additional HCPSS resources include:
Additional Crisis Resources
Grassroots Crisis Intervention
Grassroots operates a 24-hour crisis hotline and walk-in counseling program, and is the main point of contact in Howard County for homeless services. They additionally operate Mobile Crisis Teams to respond with the Howard County Police Department to psychiatric emergencies and family crises in the community.
24-Hour Crisis Hotline – 410-531-6677: Individuals may call for a variety of reasons including suicide, family and relationship problems, shelter needs, violent or threatening domestic situations, loneliness or depression, and chemical dependency issues, among others.
Mobile Crisis Team – 410-531-6677: This team of mental health professionals respond with the police to psychiatric emergencies, family crises, and other traumatic events in the community, and operates from 9:00 a.m.-11:00 p.m. daily.
Walk-In Counseling: Anyone in need of immediate assistance may walk in to the agency at any time to see a counselor. An appointment is not needed and there is no fee for the service.
NAMI Howard County
The National Alliance on Mental Illness (NAMI) Howard County seeks to improve the lives of individuals with mental illness and their families through education, advocacy and support, and to increase awareness of mental illness throughout the community. Contact 410-772-9300 for more information. If in a crisis, call the crisis line at 410-531–6677 or text "NAMI" to 741741 for 24/7, confidential, free crisis counseling.