BSAP Community-Based Learning Centers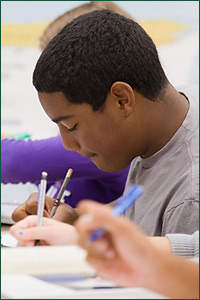 BSAP Community-based Learning Centers support the adage that "It takes a village to raise a child."
Residents in specific communities collaborate with HCPSS staff beyond school hours, providing daily experiences that encourage students to:
build a strong commitment to learning,
use time constructively.
develop strong social skills.
have a positive impact in their community.
Community-based Learning staff view every child as an asset to his or her community. Accelerating reading and mathematics practices and understanding the connection between learning behaviors and academic achievement are major foci in the centers.
Each day begins with a unity circle where students share accomplishments, discuss and/or review goals and recite and discuss the Six Ps of Excellence (Prompt, Productive, Polite, Persistent, Prepared and Proud). A healthy snack is provided daily. Family involvement goals for the Learning Centers are designed to include grandparents, older siblings, close neighbors, friends, and mentors. Parent communications include newsletters, phone calls, family workshops, and on-site conferences. Parents are also assisted in understanding their child's educational progress and are given opportunities to review and discuss interim reports and report cards from their child's school during Parent Information Meetings.
Frequently Asked Questions
Who sponsors the Learning Centers?
Learning Centers are the result of a collaborative effort between the Howard County Public School System's Black Student Achievement Program and a host of other valuable partners. The Centers provide homework assistance, Nutrition Curriculum: Nutrition Nuggets and Growing Healthy Habits, which is provided by the University of Maryland, Extension, tutoring, mentoring, and field trips. The Centers' staff also work to foster parent and community engagement in student learning and achievement.
Where are all of the Learning Centers located?
CBLC Locations
Forest Ridge Apartments
5862 Stevens Forest Road, #A, Columbia, MD
Monarch Mills Community
7600 Monarch Mills Way, Columbia, MD 21046
Swansfield Elementary School
5610 Cedar Lane, Columbia, MD 21044
Can my child attend the CBLC if he/she is attending another program?
Please select the program that best meets your child's needs. Since the CBLC supports students during weekdays that are similar to other programs, your child will not be able to enroll in more than one program.
When are the Learning Centers in session?
The Centers are open for 2 hours, Monday-Thursday for students from September to May. Students are expected to arrive immediately after school to complete homework and participate in the Center activities for the designated time at their site.
Centers are closed when schools are closed for students or when schools are in session for 1/2 day. In the event it is necessary for the Superintendent to close schools for a full day or close schools early due to inclement weather or other emergencies, the Centers will be closed.
How are the Learning Centers staffed?
All Centers are staffed with a Site Coordinator, Assistant Site Coordinator, Student Assistants and/or Volunteers. All Site Coordinators complete the formal hiring process through the HCPSS Human Resources Temporary Services Office. Most of the Center staff have a formal relationship to the HCPSS as a para professional or a classroom teacher.
Does Learning Center staff receive formal training?
Yes. The Site Coordinators receive monthly information and training sessions. There are quarterly Professional Development meetings for all staff members. In addition, all staff receives on-site support and technical assistance.
How many students does a Learning Center generally serve?
Depending on the size of the site, a Center can serve 15 to 30 students.
Is there any communication between the Learning Center and the school my child attends?
Yes. The Site Coordinator collaborates with the school staff on a regular basis. The Site Coordinator will contact the child's teacher if homework is missing, if the child is having difficulty with an assignment, or if the child is being recognized for participation in special initiative or project at the Learning Center. The Site Coordinator makes every effort to keep the school abreast of the child's success.
How can parents/guardians support this program?
Parents play a vital role in the success of this unique after-school program. Parents can support the program by: making sure their children attend the program each day, arrive on time, review the Six Ps on a regular basis, attend all parent information meetings, donate snacks, chaperone field trips, check homework, talk to others about the program, and volunteer at the Center whenever possible.
Is there anyone I can contact when I have questions, ideas or concerns?
Yes, contact your child's Site Coordinator.