Diversity, Equity and Inclusion
HCPSS has worked to advance equity and embrace diversity and inclusion into every major undertaking.
It is committed to eliminating disparities in access, opportunity and inclusion as the key to closing achievement and opportunity gaps and providing the nurturing and supportive school environment that every student deserves.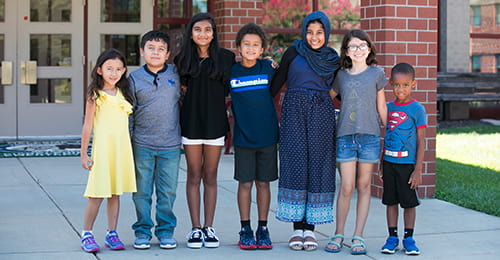 Specific efforts support commitments to
Embedding diversity and inclusion throughout the curriculum and school culture
Equitable discipline practices
Employing a staff that reflects the diversity of its community
Providing staff with professional development on cultural proficiency
Leveraging partners such as county government and community organizations
Organizational culture and climate
Built upon principles of inclusion and equity, the HCPSS Strategic Call to Action (SCTA) guides all system actions and decisions toward ensuring the academic success and social-emotional well-being for each student in an inclusive and nurturing environment. Our system's commitment to eliminating disparities in access, opportunity and inclusion will be the key to closing achievement and opportunity gaps and providing the nurturing and supportive school environment that every student deserves.
The Superintendent and Board of Education members are personally committed to ensuring that no member of the HCPSS school or system community will be the victim of disrespectful treatment or intolerance. Following all major national, international or local episodes of intolerance or hatred, Superintendent Michael Martirano has issued statements to emphasize the importance of community inclusion and mutual respect. Examples include a response to hateful incidents jointly that definitively outlined the consequences that will follow all incidents of hatred. Other responses included a statement of solidarity issued jointly with the Asian American Educators of Howard County and the Howard County Human Rights Commission on May 7, 2020, and a Juneteenth message addressing community calls for change.
The Board passed a resolution on July 9, 2020, to "denounce any bias and racism toward African American, Asian American, Latino American, Muslim American, LGBTQ+ community, the Jewish community and any other groups who have been ignored, marginalized, discriminated against and/or oppressed and allocate resources in accordance with these values as a school system and a Board."
The Board annually issues proclamations underscoring the important contributions and heritage of diverse groups in the HCPSS community:
African American History Month
Arab American Heritage Month
Hispanic Heritage Month
LGBTQ+ History Month
Native American History Month
Staff Diversity
Higher levels of staff diversity lead to diverse viewpoints and perspectives, which add value to all school communities. When students see their identities reflected in their teachers and other school staff, they are more engaged in learning and improve academically, social-emotionally and behaviorally. HCPSS continues to work toward bringing staff diversity into line with the diversity of our student body, and to enhance efforts towards ensuring a wider pool of highly qualified prospective candidates amidst a severe shortage of teachers regionally and nationally.
Superintendent Martirano meets regularly with school administrators of color. An informal Teachers of Color Advisory group will soon be established as among the Superintendent Advisory groups, which meet regularly to provide feedback and recommendations regarding HCPSS programs and processes and identify opportunities for improvement.
Focused efforts toward diversifying the workforce are showing promising results. In 2019, over 30% of new teachers hired, promoted and/or returned from leave represent African American, Asian, Hispanic or Two or more Races, compared to under 24% for those groups in 2018. Among staff overall, diversity increased by 0.3% from 2018 to 2019, with increases for specific groups at 6.3% for Asian, 3.1% for Black/African American, 6.7% for Hispanic, and 10.3% for Two or More Races.
Professional development
Professional learning is essential to organizational development, and high quality professional learning experiences are essential to instilling the tenets of diversity, equity, and inclusion. Staff who are well trained in diversity, equity and inclusion are more effective in their roles, and support the establishment of school and office cultures that provide more inclusive, engaging and supportive learning environments where the dignity of all is valued. Quality instruction is improved by supporting the development of culturally responsive teachers who have access to a strong set of diverse, district-provided instructional resources.
A focus on equity is incorporated into every administrator's full year evaluation. At the onset of a full evaluation year, school-based leaders identify key actions that will be taken to foster an equitable learning environment for all students. In addition, school-based leaders have engaged in regular professional learning focused on diversity, equity, and inclusion as well as effective discipline practices.
Newly added or updated DEI-related staff training sessions include:
Restorative Justice: 3-day introductory session, led by experienced school staff
Leading Peace Circles: 4-day intensive session
Cultural Proficiency
Trauma Informed Care
Student Voice
Culturally Responsive Teaching
Microaggressions workshop
Curriculum
Since 2017, HCPSS has implemented several actions to remove structural barriers to access and ensure a rigorous classroom experience that reflects the rich diversity of our community:
Eliminated all unnecessary prerequisites for courses that had historically proven to exclude underrepresented student populations
Eliminated low-level courses that had delayed high school graduation for some students, and sent others to college needing remediation in English and/or math
Established more inclusive access to gifted and talented and advanced placement programming
Developed accessible and affordable dual enrollment course pathways
Adopted a consistent, districtwide early reading program and interventions, which include phonemic awareness development
Significantly Increased the diversity of texts appearing in media centers, classrooms and the curriculum
Incorporated research-affirmed, universal design principles into curriculum instructional strategies
Trained teachers and school administrators in delivering research-based first instruction and teaching controversial issues
Added electives, including an African American history course offered at all 12 high schools
BSAP Saturday Math Academies offer instruction and enrichment to a diverse student population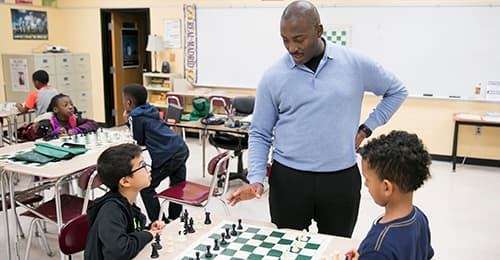 Equitable Discipline Practices
Equitable and restorative discipline practices support students' access to a well-rounded curriculum and opportunities, which ultimately lead to graduation and long-term success. HCPSS is committed to reducing disproportionality in implementing discipline, including reducing the need for disciplinary actions, ensuring consistency in suspension usage, and to meet school quality targets for discipline proportionality that are included in all in School Improvement Plans (SIPs). Additions to staffing and resources to support student mental health are giving more students full access to the supports they need, and helping to reduce the stressors that can lead to discipline issues.
All HCPSS schools develop and implement a school improvement plan that targets disproportionate suspensions. A central component of each school's plan is identifying root causes and developing specific strategies to address the causes. HCPSS has established a monthly protocol that requires school teams to unpack discipline data and conduct in-depth analysis which includes identifying trends and patterns. After analyzing the data, school teams develop strategies to address areas of concern. Professional learning in restorative practices and alternatives to suspensions has been provided for all school administrators.
Restorative Practices
HCPSS has accelerated the application of restorative justice practices as a primary, long-term strategy for achieving higher levels of student engagement and achievement, narrowing achievement gaps among student groups, and ensuring nurturing, inclusive and safe learning environments for all students. These practices build healthy relationships based on empathy between students and staff, and among adults in the school community, which are fundamental to learning engagement.
The majority of schools are implementing restorative work, and many have made significant progress in establishing restorative school cultures. Examples of the wide variety of restorative processes in place include staff training sessions; restorative discipline practices; community-building circles based on focus areas such as peace, instruction, and other topics of mutual importance to staff, students and community stakeholders; restorative gatherings such as morning meditations and restorative conversations; assigning a teacher-on-call to assist students needing extra support; regular check-in circles for students having challenges; and restorative parent-teacher-student conferences.
The elevation of student voice is a fundamental strategy for schools to establish a restorative climate. Student voice circles and other initiatives deepen staff members' understanding of student perspectives, increase students' role in school leadership, and inform teaching and learning experiences that are engaging and inspiring.
Community Collaboration
HCPSS recognizes that advancing system goals for diversity, equity and inclusion will require the ongoing support and collaboration among all members of the community. We value the partnership of local organizations, volunteers and supporters in providing input to system decisions, supporting students and staff, and advocating for policies and funding in support of our mutual goals.
The Superintendent's Diversity, Equity and Inclusion Advisory Group, comprising staff, students, and community members, represents a wide range of perspectives and advises on systemic efforts as they relate to diversity, equity, and inclusion.
All Superintendent's Advisory Groups include diverse representation.
Community workshops offered in collaboration with The Council of Elders (TCOE) educate parents about topics such as healthy relationships, social media, student well-being, home/school communication, and anti-bullying supports.
The Well-Being in the Asian Community webinar was co-hosted by HCPSS, the Asian American Educators of Howard County, and the Howard County Human Rights Commission.
The inaugural Korean Community Education and Wellness Fair offered information on college preparation, social media use, and health and wellness for the Howard County Korean community.
How Mentoring Helps Students Win in Life: Guest Voices by Emerson Davis, Celebration Church at Columbia.
Creating Equitable Opportunities as a School Social Worker: Guest Voices by Holly Flanagan, School Social Worker.
Many community organizations contribute their expertise and initiatives to help HCPSS advance and embrace diversity, equity and inclusion among students, teachers and staff. This list represents a sampling of partners working on these efforts.
Supports for Students and Staff
HCPSS strives for "equity," rather than "equality" in providing supports, because each student and staff member has unique challenges and requires individualized services and supports to achieve their goals.
Every school has at least one staff member who serves as a Diversity, Equity and Inclusion Liaison to lead efforts that support diversity, equity, and inclusion. The DEIL supports school leadership with attaining equity efforts, strengthening the diversity, and increasing belonging among students, staff and community.
In 2021, a Facilitator of Diversity, Equity, and Inclusion position was established in the Department of Special Education to support early intervention service initiatives in collaboration with the Office of Diversity, Equity and Inclusion.
A newly formed Student Services Support Work Group supports staff in responding appropriately to student and staff mental health issues, including secondary trauma, collective trauma, and racial trauma, amidst the ongoing pandemic and social unrest.
Giving Visibility to the LGBTQ+ Community: Guest Voices by Danielle DuPuis, library media specialist and video production teacher, Hammond High School.
The LGBTQIA+ Youth website section offers information about HCPSS' commitment to providing a safe and welcoming learning environment and guidelines for supporting students who identify as lesbian, gay, bisexual, transgender, questioning and/or queer, intersex, asexual and/or ally.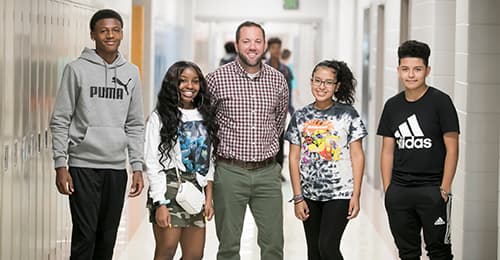 Office of Diversity, Equity and Inclusion (ODEI)
The Office of Diversity, Equity and Inclusion (ODEI) leads HCPSS' work toward building a climate of belonging and a culture of dignity, in alignment with the vision, mission, commitments and desired outcomes of the Strategic Call to Action. ODEI staff collaborate with divisional leaders to plan and implement initiatives and learnings that foster diversity, create equity, and support inclusion of all stakeholders within the learning community. Specific areas of focus include:
Professional learning and development: ODEI plans, facilitates and assesses staff learning and development supporting diversity, equity and inclusion.
District collaboration: ODEI works with HCPSS offices and departments in developing and implementing practices and policies supporting diversity, equity and inclusion.
School support: ODEI provides proactive and reactive technical support around issues that emerge from diversity, equity and inclusion, and supports schools in improving cultural responsiveness among students, staff and families. Specific initiatives include equity inquiries and belongingness inventories, dignity workshops for staff and students, and restorative justice initiatives.
Community partnerships: The office engages with stakeholders to build a coalition supporting diversity, equity and inclusion.
Contacts:
HCPSS Office of Diversity, Equity and Inclusion
(410) 313-1542