We serve more than 5.5 million high-quality meals per year
2021-2022 School Year Meals
Breakfast and lunch will be provided at no cost to families for all HCPSS students throughout the 2021-2022 school year.
Free meals also will be provided to students enrolled in the DEC, as well as students in quarantine.
Full details on student meals for the 2021-2022 school year are available online
.
Please note: Due to national food supply chain shortages and delays, HCPSS Food and Nutrition Service currently faces a number of food and paper product delivery shortfalls. These supply chain issues force our suppliers to make unanticipated substitutions, which may result in HCPSS menu changes on little to no notice.
Thank you for your understanding as we continue to meet these challenges in order to provide healthy and nutritious meals each day.
What's on the menu?
HCPSS students and their families can now view menus and nutrition and allergen information for meals served in all HCPSS schools through Nutrislice, a website and free smartphone app.
Download the Nutrislice app for iOS or Android.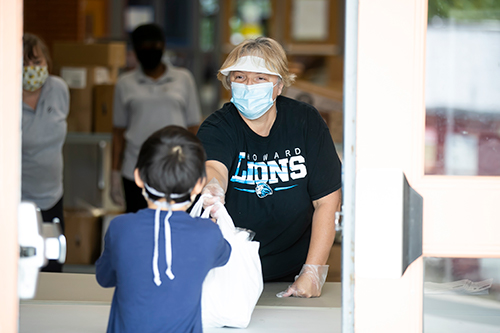 Free and Reduced Meals (FARMs)
The HCPSS participates in the National School Lunch and Breakfast Programs. Students from households that meet federal income guidelines are eligible to receive free or reduced-price meals. Those eligible for reduced-price meals pay $0.10 for breakfast and $0.20 for lunch.
Applications are available online or as a paper application. Parents must submit a new application every school year to maintain their student's eligibility.
All meals available at no cost to families for the 2021-2022 school year
Paying for meals
On-site payments and prepayments may be made using cash or check. Families may prepay with a credit card by setting up an online account at myschoolbucks.com. This online portal also allows parents to view cafeteria account activity and receive balance alerts. There is a $2.75 processing fee for each credit/debit card payment. Each transaction can be up to $120.00 in total.
Each student is assigned a unique, 6-digit cafeteria PIN, which remains the same every school year. If a student has forgotten their PIN, cashiers can look the PIN up by student name. This PIN allows HCPSS to receive reimbursements from the National School Lunch Program.
All meals purchased without a PIN will have an additional charge of $0.30 for breakfast and $0.60 for lunch.
Unpaid Meal Charges
Nutrition is essential to students' mental, physical, and academic growth. HCPSS practice is to ensure that no student goes hungry or is traumatized for lack of funds. If a student forgets their lunch money, a meal will be provided and a charge will be applied to their meal account. Meals will never be taken away when there are no funds or a negative balance in a student's meal account. However, parents/guardians are solely responsible for providing their student(s) with money for meals, or packing a meal from home. Parents/guardians are also responsible for prompt payment of outstanding balances. Meal account balances may be viewed at any time by logging in to MySchoolBucks. The expectation is that all meal charges owed to HCPSS Food and Nutrition Services will be paid in full.
More information is provided in Board of Education Policy 4200 Meal Charges.
NOTE: All meals will be available at no cost to families for the 2021-2022 school year. Meal prices are provided if students wish to purchase additional meals.
Breakfast and Lunch Daily Prices –
Student Lunch
Elementary School Lunch – $2.80
Middle/High School Lunch – $3.30
Reduced Price Lunch – $0.20 (Find out how to qualify for FARMS)
Milk (1/2 pint) – $0.50
Faculty and Staff
Adult Breakfast
Breakfast – $2.75
Adult Lunch
Regular Lunch – $4.50
Our Commitment to Quality
We strive to provide well-balanced and nutritional meals that are fairly priced for all students.
Learn more about our commitment to quality →
Let's Rethink Lunch: A Healthy Meals Program of HCPSS
We are rethinking school lunch at HCPSS. This means offering healthier meal choices and more nutritional options in schools.
Learn more about the Let's Rethink Lunch program →
Purchasing
We pride ourselves on sourcing a number of our food choices from Maryland farms and businesses.
Preparing and Serving our Meals
Our meal preparation follows strict USDA, MSDE and State Health department guidelines. Food services staff undergo mandatory training on all aspects of food selection and preparation to both meet and exceed these guidelines.
We're also committed to ensuring that all students have adequate time to eat a healthy lunch by increasing the speed and efficiency of school lunch lines.
Food for In-School Celebrations
Take a look through our list of approved items for ideas on what to bring.
Contact Us
For all questions or concerns, feel free to contact our office at 410-313-7134.
Provide Feedback
We value feedback from parents and community members on meal choices, nutrition and wellness, and many other topics to improve our services.