Nutritional Wellness
Wellness Policy
The Board of Education of Howard County recognizes the connection between health and wellness and student achievement and that students need sufficient nourishing foods and physical activity in order to grow, learn, and thrive. The Board recognizes that food is a core determinant of health and food insecurity leads to numerous health outcomes. The Board also recognizes its responsibility to provide a safe and healthy learning environment for all students. The Board believes that employee wellness is also an integral part of a healthy school environment and believes that promoting employee wellness fosters improved health status, improved morale, greater commitment to the health of students, and positive role modeling opportunities.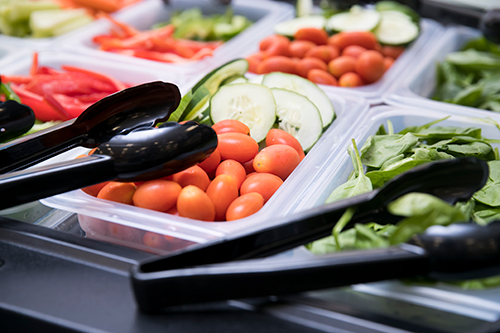 Commitment to Quality
HCPSS strives to provide well-balanced and nutritional meals that are fairly priced for all students. Learn more about our commitment to quality →
School lunch is the healthiest and most substantial meal of the day for many Howard County students. Appealing options in the HCPSS cafeteria can make the difference in a student's day and entire life. HCPSS aims to encourage young eaters to eat healthy food and develop good habits that will continue beyond school.
Each meal contains lean protein, fruit, vegetables, whole grains and low-fat milk, and meets rigorous standards for calories, percentage of calories from fat, amount of salt and nutritional content. Students get dark green vegetables, orange vegetables and legumes at least once a week. We don't just meet national standards―we exceed them. We do not fry anything and our 'a la carte' items have high nutritional content and low added sugar.
It's important to us that we also support Maryland agriculture and business. Our milk comes from nearby Frederick, our bread comes from Baltimore-based H&S Bakery, and many of our vegetables are grown in-state. In fact, 60 percent of our food comes from local vendors.
HCPSS meal preparation follows strict federal and state health guidelines. Food and Nutrition Services staff undergo mandatory training on all aspects of food selection and preparation to both meet and exceed these guidelines. We're committed to ensuring that all students have adequate time to eat a healthy lunch by continually working to increase the speed and efficiency of school lunch lines.
Additionally, take a look through our list of approved items for ideas on what to bring.