Our Commitment to Quality
What we strive for:
Providing well-balanced meals to students regardless of their ability to pay.
Maintaining high sanitation and safe food handling standards.
Offering mandatory employee training on all aspects of food selection, purchasing and preparation.
Complying with federal, state, and local health department laws and regulations.
Conducting on-going nutritional analysis of student food choices.
Redesigning menus to include foods with less sodium, sugar, fat, and saturated fat.
Promoting the link between nutrition education, physical activity and living a healthy lifestyle.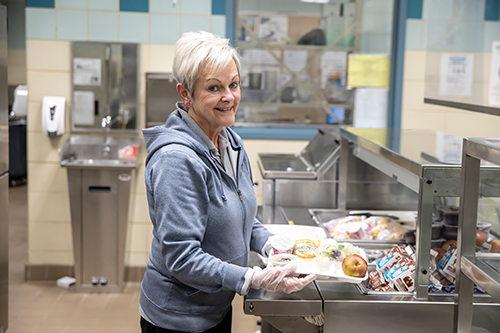 Entree Specifications
USDA Chicken Products
Commodity Distribution Program Beef Products
Fish is White Fish for Baking
Tuna is Light, Packed in Water
Cheese on Pizza Products is Low-fat Mozzarella
Reduced-fat USDA Cheese
Bread Specifications
Whole Grain Rolls and Bisquits Baked in School Kitchens
Multi-grain Breads
Whole-grain, Non-sweetened Cereals
Age-appropriate Sized Bagels and Muffins
Whole-grain Pasta
Whole-grain Pizza Crust
Fruit and Vegetable Specifications
Milk Specifications
Watch a video on our stardards for milk storage and preparation→
Fat-free White, Chocolate (lunch only) or Strawberry (lunch only) Milk
1% White Milk
Purchasing Specifications
Meat Produced in USDA Federally Inspected Plants
USDA Grade A Potatoes
First Quality Frozen Vegetables
U.S. #1 Fresh Vegetables
Whole Wheat Pasta Products
Whole Grain Pizza Crust, Rolls and Biscuits
100% Fruit Juice Only
Fat-free, Low-fat and Low-sodium Condiments
Low-sodium Gravy Mixes and Soup Bases
No Trans Fats in Foods
Fruit and Vegetable Specifications
Salad Bars Include Fresh Fruit and Vegetables (part of all middle and high school lunches)
First Quality Frozen Vegetables
100% Fruit Juice and Fruit Smoothies
Canned Fruit – Packed in Light Syrup
Fresh Fruit – 3 or 4 Daily Choices
Milk Specifications
Buying from Local Businesses
Not only is it good for local businesses, it's great for the environment. Transporting products from these nearby food companies to our schools uses less resources than buying from out-of-state businesses.
Milk: Dairy Maid – Frederick, MD
Bread: Schmidt's – Fullerton and Fells Point, MD
Produce: Bowie, MD
Ice Cream: Briggs – Laurel, MD
Canned/Frozen Fruits & Vegetables: MD & PA
Flour: Ellicott City, MD
McCormick Spices: Hunt Valley, MD
Tortillas: Abuelito – Northern, VA
Tyson & Perdue Chicken: Eastern Shore, MD
Domino Sugar: Baltimore, MD
Knouse Food: Bigglerville, PA
Thomas English Muffins: Frederick, MD
Hadley Farms: Hagerstown, MD
Shell Eggs: Maryland
How we prepare our foods
All of the food we prepare for the meals program is prepared in our school kitchens and many menu items are made from scratch. Standard USDA recipes are used in cooking and are student tested for taste and consistency. Our entrees, including chicken and turkey products, are baked or oven-roasted and our vegetables are steam cooked
Pizza is made with low-fat mozzarella cheese and low-sodium tomato products. Other menu items and recipes use reduced-fat chees, low-fat and low-sodium gravy or soup bases that contain 2% or less fat calories.
Menu items made from scratch:
Baked Chicken
Macaroni and Cheese
Chicken Parmesan
Lasagna
Tacos
Spaghetti
Sloppy Joe
Baked Ziti
Soups
Mashed Potato Bowls
Turkey Pot Pie
Enchiladas
Oriental Stir Fry
Quesadilla
Hot Turkey Sandwich
Wraps
Melts
Salads