Summer Meal Program
The information below is applicable to Summer 2023 only: Wednesday, June 21 – Friday. Aug. 4.
Summer Meal Program Overview
To continue meeting the growing need to feed hungry children and families in Howard County and fill the nutritional gap over the summer months, the Howard County Public School System announces its FREE SUMMER MEAL PROGRAM, which will run weekdays June 21-Aug. 4, 2023. Meals will be served only on days schools are open and there will be no meal service Tuesday, July 4.
There are no applications, enrollment or fees to participate in this program, however children must be present to receive free meals.
Meals will be provided at no cost to any HCPSS students, as well as any children aged 18 and under. In addition, free meals will be provided to all students participating in HCPSS summer programs.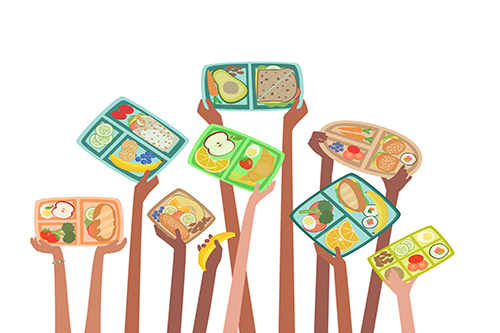 Summer Meal Sites
Meal sites and pickup times are subject to change. Any changes will be noted on this webpage.
Meals will be served weekdays, Wednesday, June 21 through Friday. Aug. 4 from 12:30-2 p.m. at the following locations:
Clarksville Middle School, 6535 South Trotter Rd., Clarksville
Deep Run Elementary School, 6925 Old Waterloo Rd; Elkridge
Howard High School, 8700 Old Annapolis Rd., Ellicott City
Laurel Woods Elementary School, 9250 N Laurel Rd., Laurel
Longfellow Elementary School, 5470 Hesperus Dr., Columbia
Oakland Mills Middle School, 9540 Kilimanjaro Rd., Columbia
Patuxent Valley Middle School, 9151 Vollmerhausen Rd., Savage
Talbott Springs Elementary School, 9550 Basket Ring Rd., Columbia
Howard County Library System East Columbia Branch, 6600 Cradlerock Way, Columbia
Reminder! There will be no meal service when schools are closed Tuesday, July 4 for the Independence Day holiday.
Summer Meal Menus
Effective June 15, 2023, HCPSS no longer will use NutriSlice for school menus. HCPSS is preparing an update to its Food Services platforms for the 2023-2024 school year. Until that time, the menus for summer meals can be found online.
Users may select their summer meal site of choice and select the arrows to advance the calendar to an applicable week. If menus are not displayed for a particular school, that school is not a summer meal site.
Menus for the 2023-2024 school year are forthcoming.
Food & Nutrition Services
Acceptance and participation requirements for the program and all activities are the same for all children regardless of race, color, national origin, sex, age or disability. The summer Food Service program is funded by the U.S. Department of Agriculture (USDA), through the Maryland State Department of Education (MSDE) and is an extension of the National School Lunch Program, which is designed to guarantee eligible children free and nutritious breakfasts and lunches during the school year. Meals served will be healthy and will follow USDA nutrition guidelines. USDA and MSDE are equal opportunity providers.