Supporting the Mission and Goals of HCPSS through Leadership
The mission of the Howard County Board of Education (BOE) is to provide leadership for excellence in teaching and learning by fostering a climate for deliberative change through policy and community engagement.
Meeting Schedules
Board meetings may be viewed live or on-demand online, and during and after each meeting on Comcast channel 95 or Verizon channel 42. Upcoming Public Hearings can be found online.
Upcoming Regular Meetings/Public Work Sessions:
Thursday, May 28, 4 p.m. – Virtual Regular Meeting (no evening session)
Thursday, June 11, 3 p.m. – Virtual Adoption of FY21 Operating & Capital Budget & FY22-26 Capital Improvement Program, followed by Virtual Regular Meeting
Thursday, June 25, 4 & 7 p.m. – Virtual Regular Meeting
*Virtual meetings will be streamed live and may viewed on the HCPSS website, or on Comcast channel 95/Verizon 42.
Meeting Minutes
School Cluster Assignments
Individuals may request a sign language interpreter for any meeting of the Board of Education by contacting Colleen Markiewicz, interpreter scheduler, at 410-313-7046. A two-week advance notice is preferred.
Committees
Policies and Procedures
The Board of Education sets local education policy consistent with state and federal laws governing public education.
View our district-wide policies and procedures →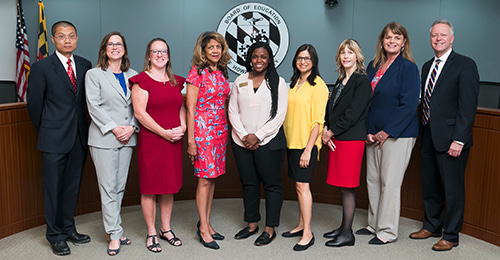 Friends of Education Award
The Friends of Education Award recognizes an individual, business, or organization for an innovative or unique contribution that directly supports the school system's mission of excellence in teaching and learning
Current Board of Education Members