Early Intervention Programs and Services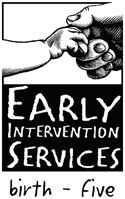 The Howard County School System provides a full continuum of services through the Office of Early Intervention Services Programs for children ages birth to five and their families. The documents below include information for families regarding the different types services for young children including those with autism and related disorders. Decisions regarding services, service locations, and program placements are made following the IFSP or IEP team process.
Early Intervention Services
Early intervention services are designed to provide a program of developmental intervention directly to the children with disabilities from birth to five years of age, to the parent, child-care provider, or others who are fulfilling the role of primary caregiver. Additional information regarding early intervention programs is available from the Office of Early Intervention Services at 410-313-7017 or by contacting Jen Harwood, Coordinator at earlyinterventionservices@hcpss.org.
Infants and Toddlers
The Howard County Infants and Toddlers Program (HCITP) – also referred to as Early Beginnings – serves children from birth to three years of age who have a developmental delay or who are at risk for developmental delay. The program is a coordinated, multidisciplinary, interagency system of services for infants, toddlers, and their families. Other agencies participating in the HCITP are the Howard County Health Department and the Howard County Department of Social Services. If you have concerns about your child's development (ages birth to 34.5 months), call us at 410-313-7017.
Once you make the initial phone call and share your concerns, an appointment will be made for an evaluation at our County Diagnostic Center to determine eligibility for early intervention services. A primary provider will be assigned to meet with you, if your child is determined to be eligible. They will conduct a Routines-Based Interview with your family and/or child-care providers. During this two-hour interview they will help turn your concerns and priorities into real-life, functional outcomes that you can work on throughout your everyday activities. A formal plan, called the Individual Family Services Plan (IFSP), will be developed to document these outcomes in the child's natural environment, such as home, child care, preschool or any community setting. During visits, we support the ability of all families and caregivers to enhance their child's learning and development. While some people think our purpose is to provide therapy for the child while the parent does something else, that's not the case! Our team of professional early interventionists visits the family or caregiver—not just the child—to build upon the family's ability to have the most impact on the child's learning and development.
Eligible children may transition to preschool-kindergarten services and/or community services at age three. Some children may continue to receive services through the Extended IFSP Option up to the beginning of the school year after the child turns four.
Prekindergarten
Prekindergarten in Howard County includes a range of supports based on either economic or developmental needs. Our special education preschool programs serve children three and four years of age who have a disability or developmental delay.
Eligible children will be assessed and an Individualized Education Program (IEP) will be developed. Each IEP is highly individualized and includes goals and objectives developed by parents and professionals to address skill deficits and build school readiness. Team members provide instruction and therapy services using techniques that combine sound principles of early childhood special education, developmentally appropriate practices, and are evidence-based. Active learning, child choice, highly motivating materials, and positive behavioral supports are key to facilitating children's growth in developmental areas.
As determined by the IEP Team, eligible children receive special education and related services in therapy-only sessions, half-day or full-day classes with typically developing peers as part of the Learning Together Program or in community-based preschool programs where they have been enrolled by their parents. Most HCPSS special education classes are included in Regional Early Childhood Centers (RECC) located at elementary schools throughout the county.
If you have concerns about your child's development please call our Child Find office: 410-313-7046.
Further information regarding the Pre-K program serving economically disadvantaged families may also be found on the HCPSS website.
Family Support Network
Family Support Network Coordinators are available to provide information, support, and linkages to community resources for families of children from birth through five years of age. In addition, they coordinate a parent training program as well as a parent mentor program which links "experienced" parents of children with disabilities with those parents of children who are new to the programs. Family members and staff members may contact the Family Support Network Coordinators at 410-313-7161.