Redistricting Process for the 2023-2024 School Year Overview Video

Español
On January 27, 2022, the Board of Education directed that HCPSS initiate the boundary review process outlined in Policy 6010 School Attendance Areas. This review will include boundary modifications to establish an attendance area for New High School #13.
This presentation was produced and narrated by Cooperative Strategies. Cooperative Strategies, LLC, is a Board of Education-approved independent consultant that will serve as a neutral facilitator throughout the redistricting process.
Transcript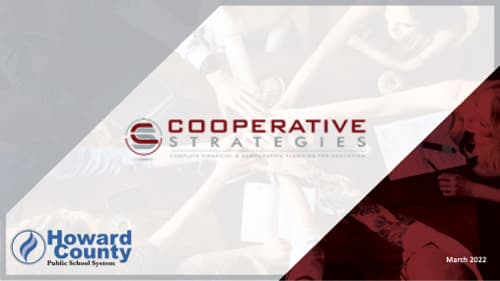 Overview
Hello, I am Scott Leopold with Cooperative Strategies. We were contracted by the Howard County Public School System to assist in the boundary review process associated with the opening of High School 13 in the Fall of 2023. This is the first public engagement opportunity in this process and it is intended to collect initial input to inform the planning that will occur throughout the process. At this point, there are not any maps or plans to share and no decisions have been made.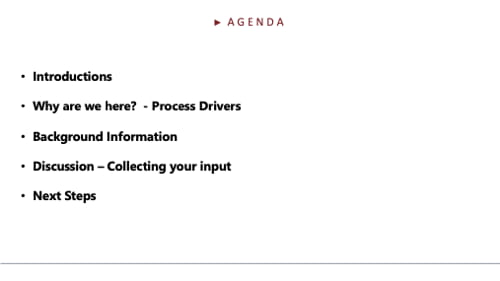 Agenda
Here is our agenda for this presentation:
We will have additional introductions for more individuals that will be involved in this process.
We will review the process drivers, answering the question: why are we here?
We will also review some background information.
And then we will move to the most important part of this engagement which is collecting your input.
Finally, we will talk about the next steps in the process.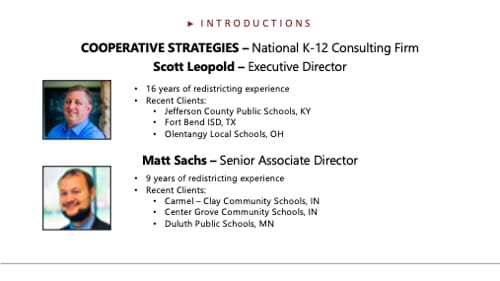 Introductions – Cooperative Strategies
Again, I am Scott Leopold with Cooperative Strategies, we are a K-12 planning firm. These types of projects are our primary focus. I have been doing this work since 2005 and we have worked with Howard County in some capacity for the past 15+ years. We were also heavily involved in the 2019 boundary review process.
Matt Sachs will also be working on this process. Like me, these types of projects are his focus and he has been at this for almost 10 years.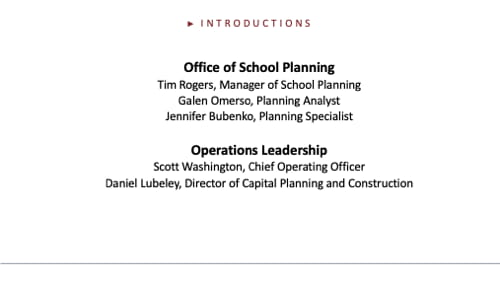 Introductions – HCPSS
On the HCPSS side, we interface primarily with the Office of School Planning (or OSP). The OSP is led by Tim Rogers with additional support from Galen Omerso and Jennifer Bubenko.
We will also have involvement from Operations Leadership. This will be the Chief Operating Officer, Scott Washington, and the Director of Capital Planning and Construction, Dan Lubeley.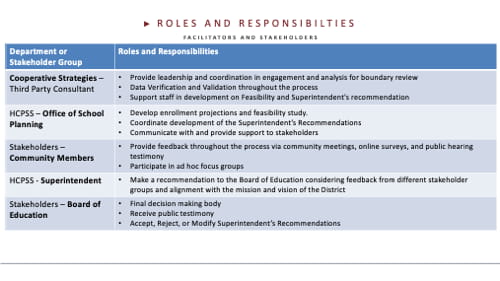 Roles and Responsibilities
In this process, it is very important to have clear delineation of roles and responsibilities from different groups and stakeholders.
Cooperative Strategies will serve as the third-party consultant. We will provide objectivity and outside perspective to the process which we have gained through experience with other similar districts.
We will also be facilitating community engagement throughout the process. We will provide data verification and validation every step of the way.
The OSP will develop enrollment projections and the Feasibility Study in consultation with Cooperative Strategies. This study will include multiple scenarios that will address the needs of this process. We will then take the lead in gathering community feedback and developing the Superintendent's proposal.
Community members are the key stakeholders throughout the entire process. We ask that they provide feedback at community meetings, complete online surveys, participate in focus groups, and provide testimony during the Board's Public Hearings.
Following the Feasibility Study, the Superintendent will consider feedback from the various forms of community engagement, alignment with policy, and the mission and vision of HCPSS. He will then make a recommendation to the Board of Education.
The Board of Education is the final decision-making body in this process.
The Board will accept, reject, or modify the Superintendent's Recommendation.
The Board will receive public testimony after the Superintendent's recommendation and after any Board approved preliminary plan(s) before any final action is taken.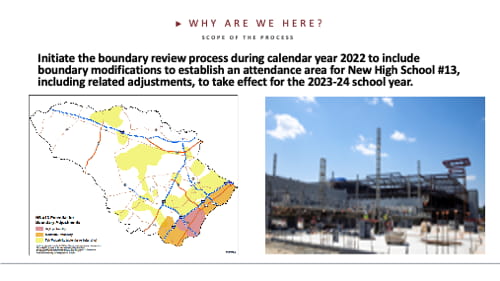 Why Are We Here?
Why are we here?
In the Fall of 2023, the District will be opening High School #13, located at 8500 Ridgely's Run Road in Jessup. Per policy, this action has triggered this process to establish an attendance area for the new school. Per direction from the Board, the scope of this process is limited to boundary modifications to establish an attendance area for New High School #13, including related adjustments. Related adjustments may include adjustments to feeder patterns that may be disrupted by adding the new high school boundary.
This map was produced in 2019 and shows probable impact in this process. Again, this is an estimation and changes may or may not exceed the areas identified on this map.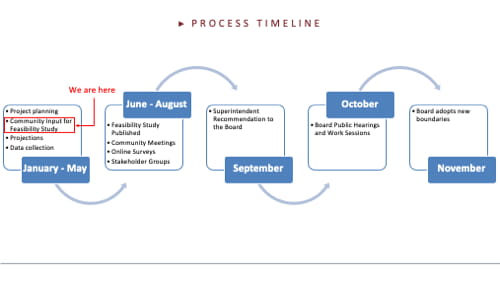 Process Timeline
This outlines the overall process. As you can see we are in the very beginning. Your input will inform the Feasibility Study that will be published in June. That will result in community feedback including community meetings, online surveys, and focus groups.
That feedback will be considered by the Superintendent as he delivers his recommendation to the Board in September.
The Board Public Hearings and Work Sessions will occur in September and October with final adoption of the boundaries in November.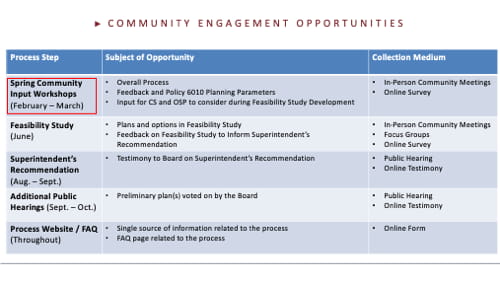 Community Engagement Opportunities
Here are the various engagement opportunities throughout the process. Again, we are here, and are talking about the overall process and seeking input on the policy parameters, as well as input to consider as the Feasibility Study is developed.
In June, we will publish the Feasibility Study and will have public meetings similar to this format which will also include online surveys and focus groups for those that want to have conversations and provide additional feedback beyond the surveys.
In the summer, the Superintendent considers all of the feedback collected to date, along with policy and the district mission and vision. The Superintendent will then present his recommendation to the Board. At that point there will be the opportunity for Public Hearings and the submission of online testimony.
The Board considers the Superintendent's recommendation, and should changes be made in any Board approved Preliminary Plan(s), additional public hearings will be held to collect feedback on those changes before any final plans are approved by the Board. This may be iterative depending on the board discussion.
And, of course, we will maintain a process website that will be available throughout the process.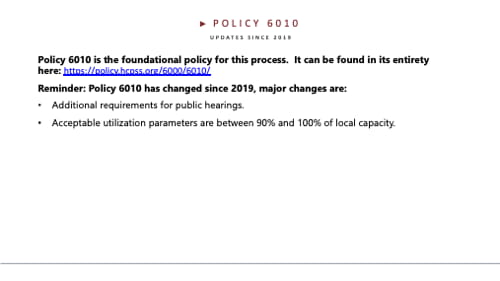 Policy 6010
HCPSS Policy 6010 is our foundational policy for this process. I am not going to go through it verbatim in this presentation, but it can be found in its entirety on the HCPSS website.
As a reminder, there are some changes that have occurred in the policy since 2019.
As mentioned before, there may be additional Public Hearings as the Board goes through its process after the Superintendent's recommendation. So, if the Board makes modifications to the Superintendents recommendation or puts forward another plan impacting new areas of the County, that will prompt a public hearing before any final action is taken by the Board.
Also, we're now looking to keep schools between 90% and 100% of capacity which is a change from the process in 2019.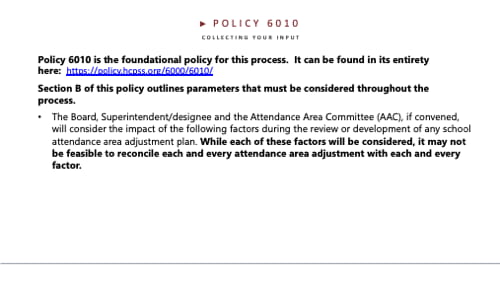 Decision Factors
Before we get into the parameters for consideration, I want to point to a section in the policy that is particularly important.
The Board, Superintendent/designee and the Attendance Area Committee (AAC), if convened, will consider the impact of the following factors during the review or development of any school attendance area adjustment plan. While each of these factors will be considered, it may not be feasible to reconcile each and every attendance area adjustment with each and every factor.
So, as you are considering how you feel about these parameters, remember that it is very unlikely that all of them can be satisfied.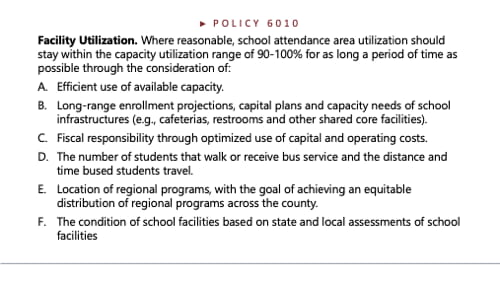 Facility Utilization
Now I am going to go over some of the parameters in Policy 6010, starting with Facility Utilization.
Where reasonable, school attendance area utilization should stay within the capacity utilization range of 90-100% for as long a period of time as possible through the consideration of:
Efficient use of available capacity.
Long-range enrollment projections, capital plans and capacity needs of school infrastructures (e.g., cafeterias, restrooms and other shared core facilities).
Fiscal responsibility through optimized use of capital and operating costs.
The number of students that walk or receive bus service and the distance and time bused students travel.
Location of regional programs, with the goal of achieving an equitable distribution of regional programs across the county.
The condition of school facilities based on state and local assessments of school facilities.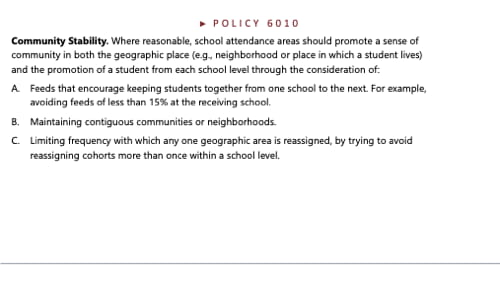 Community Stability
Moving on to Community Stability.
Where reasonable, school attendance areas should promote a sense of community in both the geographic place (e.g., neighborhood or place in which a student lives) and the promotion of a student from each school level through the consideration of:
Feeds that encourage keeping students together from one school to the next. For example, avoiding feeds of less than 15% at the receiving school.
Maintaining contiguous communities or neighborhoods.
Limiting frequency with which any one geographic area is reassigned, by trying to avoid reassigning cohorts more than once within a school level.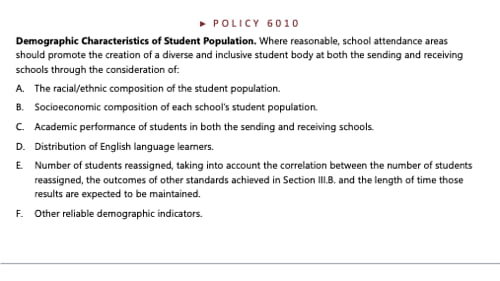 Demographic Characteristics of Student Population
And finally Demographic Characteristics of Student Population.
Where reasonable, school attendance areas should promote the creation of a diverse and inclusive student body at both the sending and receiving schools through the consideration of:
The racial/ethnic composition of the student population.
Socioeconomic composition of each school's student population.
Academic performance of students in both the sending and receiving schools.
Distribution of English language learners.
Number of students reassigned, taking into account the correlation between the number of students reassigned, the outcomes of other standards achieved in Section III.B. and the length of time those results are expected to be maintained.
Other reliable demographic indicators.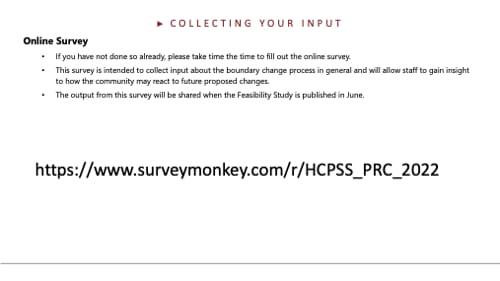 Provide Input
As a reminder, if you have not done so already, please provide your input through the online survey. The questions are intended to collect your overall preferences on the policy parameters as they apply to the current redistricting process, as well as any overall comments you may have on the process in general.
The link to the survey can be found online, but the direct link is:
Survey Closed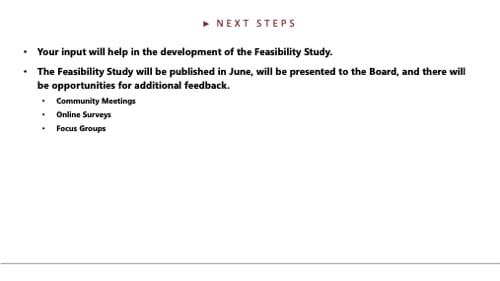 As far as next steps go, your input will help in the development of the Feasibility Study which will be published in June. At that time, there will be opportunities for your feedback in the form of community meetings, online surveys, and focus groups. We look forward to this being informative and transparent process.