HCPSS Strategic Call to Action
Learning and Leading With Equity
Find out more about the HCPSS strategic plan.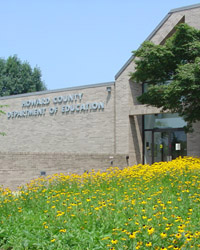 Howard County, Maryland is a suburban community of more than 330,000 situated midway along the Baltimore-Washington corridor. It is a county of contrasts — a blend of old and new, urban and rural, historical and progressive. The county's borders encompass Ellicott City, one of the country's oldest towns, and Columbia, a planned community conceived and designed 55 years ago by The Rouse Company.
A great community deserves great schools, and the Howard County Public School System is a recognized source of local pride. The school system consistently ranks among Maryland's top school districts based on student performance on state assessments. Howard County students score above the national averages on standardized tests.
Read more about us and our graduating students:
Vision
Every student and staff member embraces diversity and possesses the skills, knowledge and confidence to positively influence the larger community.
Mission
HCPSS ensures academic success and social-emotional well-being for each student in an inclusive and nurturing environment that closes opportunity gaps.
Four Overarching Commitments:
Value: Every HCPSS stakeholder feels happy and rewarded in their roles and takes pride in cultivating the learning community.
Achieve: An individualized focus supports every person in reaching milestones for success.
Connect: Students and staff thrive in a safe, nurturing and inclusive culture that embraces diversity.
Empower: Schools, families and the community are mutually invested in student achievement and well‑being.
Additional Information
78 Schools
42 elementary schools
20 middle schools
13 high schools
3 education centers
Currently, HCPSS has no charter schools.
Total Enrollment – 57,325*
Pre-K: 1,321
Elementary (K-5) – 24,366
Middle (6-8) – 13,319
High (9-12) – 18,319
*Official count from September 30, 2021
Race/Ethnicity FY22
Asian – 23.4%
Black/African American – 24.8%
Hispanic/Latino – 13.1%
White – 32.0%
Other – less than or equal to 5.0%
Two or more races – 6.3%
Students Receiving Special Services FY21
Free/Reduced-priced Meals – 23.1%
English Learners – 5.9%
Special Education – 9.4%
Attendance Rate FY21
All Grades – greater than or equal to 95.0%
Gifted and Talented Program FY21
Percentage of students who have participated in a wide variety of Gifted and Talented Education Program offerings:
K to 5 – 64%**
Grades 6–8 – 56%
Grades 9–12 – 70%
** Primary Talent Development programming delivered to all students in K–Grade 1.
Graduation Rate FY21: 94.05%*
*4-year adjusted cohort
Class of 2021
43 National Merit Finalist scholarships
Per Pupil Budgeted Expenditure FY22
$89.33 per day/$16,080 per year
Operating Budget FY22
Capital Budget FY22
Our Staff
4,774* classroom teachers, 79% of whom hold a master's degree or above
Total staff: 8,561
Data as of 10/15/21. Includes staff on long-term leave.
*Does not include vacancies (available to fill or unallocated) as of 10/15/2021).
Staff Diversity*
Total Staff – 29%
New Teachers – 29%
School Administrators – 32%
*Proportion self-identifying in minority groups. Employees not declaring race/ethnicity are reported to MSDE as "all races/ethnicities." They are represented in these figures as diverse.
Our Classrooms
Class Size Targets
Kindergarten – 1:22
Grades 1–2 – 1:20
Grades 3–5 – 1:26
Middle – 1:21
High – 1.4:28
Classrooms with internet access: 100%