About the HCPSS Budget
HCPSS has two budgets, operating and capital, that compose its total annual budget. Together, these budgets support the daily operations of HCPSS schools, as well as long-term projects required to address the district's changing needs.
Operating Budget
The HCPSS operating budget covers the cost of day-to-day school operations, with a focus on educating students and supporting teachers.
Approximately 80 percent of the district's operating budget is dedicated to instruction and student supports. This includes salaries for teachers and support staff; materials for instruction; special education; and student services such as health, counseling, etc.
Fifteen percent of the operating budget is used to fund transportation and operations-related expenses. These include student transportation, school and grounds maintenance, purchasing and fixed charges.
Four percent of the operating budget is dedicated to central and school-based administration, which encompasses student safety, compliance with state and federal regulations and supports for students and school staff.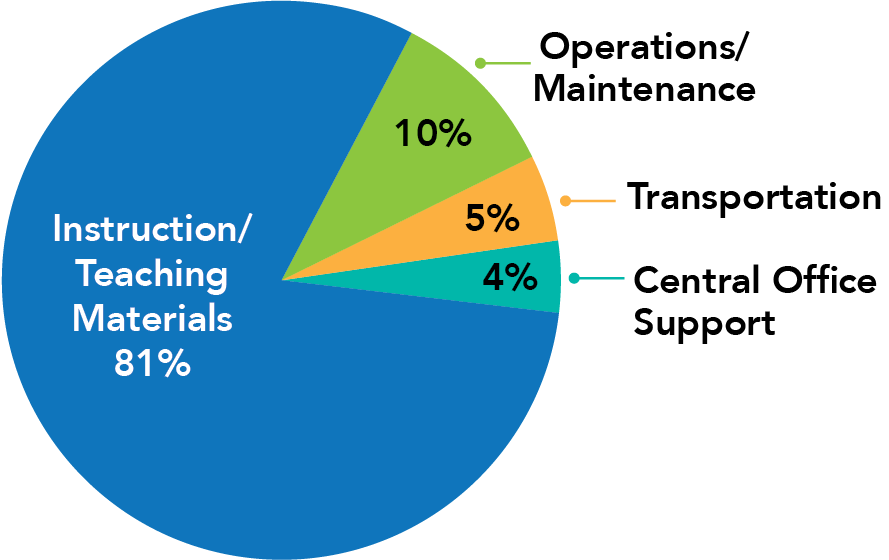 How It Is Funded
The HCPSS operating budget depends on county, state, federal and other funding sources.
County: The primary source of HCPSS revenue is the appropriation from the Howard County government. The county allocation represents a Maintenance of Effort (MOE) level of funding as provided for in state law, as well as any additional allocation to support needs such as enrollment growth, support for teachers and staff, or other priorities.
State: Maryland State Aid formulas include unrestricted funds and are distributed based on enrollment, relative wealth of each county, level of local expenditures for education, grants, Blueprint funding and other factors.
Federal: Federal revenue formulas include Impact Aid, food and nutrition reimbursements, grants and other factors.
Other: Other sources of revenue include building use fees, gate receipts for athletic events, tuition for non-resident students, interest income, summer school tuition, e-rate rebates and fund balance.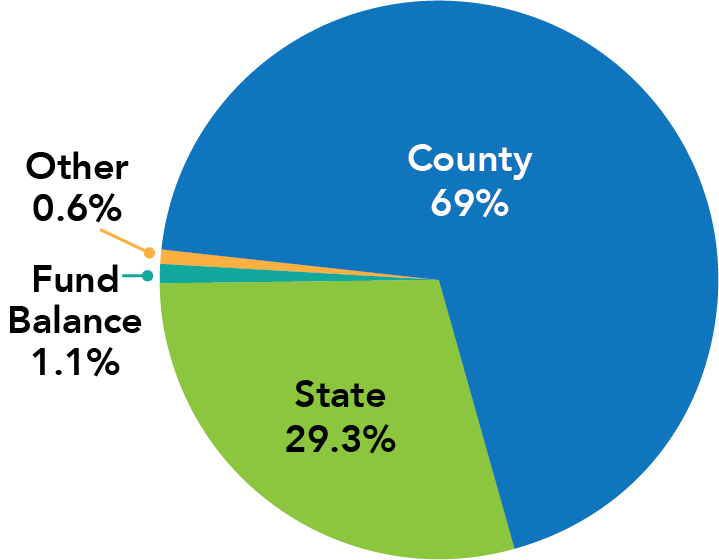 How It Is Developed
Each year, HCPSS collaborates with the Howard County Executive and County Council to develop and adopt an operating budget for the upcoming school year. The process, which begins in the fall and concludes in the late spring of the following year, involves five main steps:
The Superintendent submits a proposed budget to the Board of Education.
The Board holds work sessions and public hearings to gather information and feedback and revise the budget request.
The County Executive reviews the Board's request and submits a proposed request to the County Council.
The County Council holds public hearings, implements revisions and adopts a budget for the county that includes funding for the school system.
The Board adopts a detailed school system budget.
How It Is Monitored and Managed
Once the budget is adopted and the fiscal year begins each July 1, HCPSS monitors and manages the budget providing Operating Budget Financial Reports to Board on a monthly basis. These reports provide detailed information on budget, including revenues and expenditures and actions taken to manage spending with the approved budget. The monthly reports are posted on the BoardDocs website under each applicable meeting date and also can be accessed online.
Capital Budget
The HCPSS capital budget funds the construction of new school facilities and provides for renovations, additions, roofing and barrier-free projects; technology equalization; and the purchase or relocation of portable classrooms for existing facilities. The budget includes a capital budget for the upcoming fiscal year, a five-year capital improvement program, and a 10-year long-range master plan.
How It Is Funded
Financing for capital projects comes primarily from three sources: local bonds, local transfer tax and state school construction funds.
Learn more about our capital budget