Career Academy Internships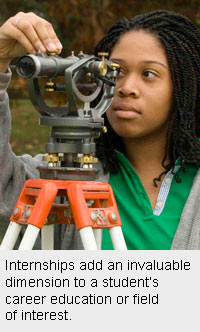 Career Academy Internships
Students participating in Career Academies receive focused instruction and experience in a chosen career field. Immersion in the subject area, through specialized coursework and hands-on experiences, enables the student to explore the field before starting college or a career, while gaining practical skills and contacts that can prove invaluable to future success.
An internship with a professional in the chosen field is an integral element of the career immersion experience. During the internship, the student develops original research, a creative production, or a community-benefit project.
Eligibility
Students in Grades 11-12 enrolled in a Career Academy.
Mentor Role
Provide a professional level internship related to subject of interest to both student and mentor.
Evaluate student progress and final project.
Benefits To Mentor/Organization
Gain personal satisfaction through working with highly motivated interns.
Identify and nurture top-caliber talent early.
Logistics
5-10 hours per week (unpaid) at job site throughout school year.
Student provides transportation.
Career Academy Clusters
Contact
Natalie Belcher – 410-313-6636
Office of Career and Technology Education