About Howard County Public School System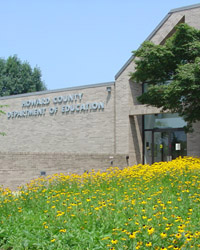 Howard County, Maryland is a suburban community of over 309,000 situated midway along the Baltimore-Washington corridor. It is a county of contrasts — a blend of old and new, urban and rural, historical and progressive. The county's borders encompass Ellicott City, one of the country's oldest towns, and Columbia, a planned community conceived and designed nearly 50 years ago by The Rouse Company.
Read more about us and our graduating students:
5-Year Strategic Plan
Mission And Goals
Our Vision
"Every student is inspired to learn and empowered to excel."
Our Mission
"We cultivate a vibrant learning community that prepares students to thrive in a dynamic world"
Goals
Goal 1: Students
Every student achieves academic excellence in an inspiring, engaging, and supportive environment.
Goal 2: Staff
Every staff member is engaged, supported, and successful.
Goal 3: Families and the Community
Families and the community are engaged and supported as partners in education.
Goal 4: Organization
Schools are supported by world-class organizational practices.
Guiding Principles
Concepts, values, and principles that guide the organization's work.
HCPSS believes in…
Achieving excellence in all we do
Developing each student's unique gifts
Engaging students in relevant, experiential, and personalized learning
Cultivating creative problem solving, critical thinking, and innovation
Promoting integrity, civility, and global citizenship
Enriching learning by honoring our diversity
Fostering a culture of collaboration, trust, and shared responsibility
Removing barriers to success
Additional Information
76 Schools
41 elementary schools
20 middle schools
12 high schools
3 education centers
Total Enrollment – 53,637*
Elementary (PreK-5) – 24,245
Middle (6-8) – 12,715
High (9-12) – 16,574
Special School – 103
*Official count does not include Pre-K
Race/Ethnicity
American Indian/Alaskan – 0.2%
Asian – 20.3%
Black/African American – 22.5%
Hawaiian/Pacific Islander – 0.1%
Hispanic/Latino – 9.9%
White – 40.8%
Two or more races – 6.2%
Students Receiving Special Services (2013-14)
Free/Reduced Lunch – 20.6%
Limited English Proficient – ≤ 5.0%
Special Education – 8.5%
Attendance Rate (2013-14)
Elementary – 96%
Middle – 96%
High – 96%
Graduation Rate FY15: 93.5%*
Per Pupil Expenditure FY 2015
$80.56 per day/$14,500 per year
Operating Budget for Fiscal Year 2015
Our Staff 2015-16
4,134 teachers, 71.1% of whom hold a master's degree or above
Average years of experience: 12.9
Total staff: 8,074
Ratio of computers to students: 1 : 2
Classrooms with Internet access: 100%
Additional information can be found in the 2015-16 Profile of the HCPSS

Equal Opportunity
The Howard County Public School System does not discriminate on the basis of race, color, national origin, sex, disability, or age in its programs and activities and provides equal access to the Boy/Girl Scouts and other designated youth groups.
The following person has been designated to handle inquiries regarding the non-discrimination policies:
Equity Assurance Manager
Howard County Public School System
10910 Clarksville Pike
Ellicott City, MD 21042
410-313-6654 (phone)
410-313-1645 (fax)
For further information on notice of non-discrimination, visit http://wdcrobcolp01.ed.gov/CFAPPS/OCR/contactus.cfm for the address and phone number of the office that serves your area, or call 1–800–421–3481.