Recycling Efforts
The Howard County Public School System has partnered with Jenn-Kans Disposal for the pickup of trash and recyclables. Our goal is to continue to improve our recycling efforts every year. This year we will continue to focus our efforts in single-stream recycling. Single-stream recycling allows us to collect paper, cardboard, plastic, cans, and glass recyclables in one container.
Waste Management Recycle America (WMRA) is under contract with Howard County for the processing and marketing of recyclables. WMRA operates a state-of-the-art recyclables processing facility near Elkridge. The facility contains the necessary equipment to sort recyclables in preparation for sale to individual material markets.
All schools and offices have 6 yard metal containers, 95-gallon blue toters, and 32-gallon recycling containers for your recycling convenience. In addition we have 56-gallon containers for bottles/cans in all of the school stadiums.
If you have questions or concerns about our recycling services, please contact the Office of Custodial Services at 410-313-2595.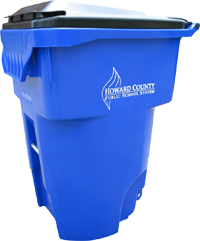 What we Recycle
Paper
Milk cartons and juice boxes
Newspapers and inserts
Magazines, catalogs and junk mail
Paperboard food and snack boxes
Office paper and envelopes (typing, tax, copy and letterhead)
Folders, three-ring or spiral notebooks
Paper bags
Telephone books
Shredded paper (Must be bagged in a see-through bag.)
Cans
Aluminum cans
Steel food and beverage cans
Aerosol cans (empty)
Aluminum foil
Aluminum pie and cake pans
Glass
Bottles and jars of any color
Plastic – bottles
Milk jugs
Laundry detergent
Soap
Shampoo
Salad dressing
Drink
Plastic – wide-mouth containers
Applesauce cups
Yogurt cups
Pudding cups
Margarine/butter tubs
Cottage cheese tubs
Sour cream tubs
Whipped topping tubs
Peanut butter jars
Mayonnaise jars
Preparation of Recyclables
Containers need to be emptied, but not rinsed.
Non-recyclable Items
Unfortunately we can no longer recycle plastic utensils. Their small size make it too difficult for the computer eye to detect them as they travel down the recycling belt.
Also, no styrofoam containers, napkins, tissues or paper towels are collected.