Teacher Support Center
Summer 2021
The Teacher Support Center is closed for the summer.
2021-2022 School Year
The Teacher Support Center will REOPEN with expanded hours for the startup of the SY 2021-2022. The hours will be:
August 16th -18th 10 AM-6 PM
August 24th-26th 10 AM-6 PM
FREE COLOR COPYING available by appointment August 16-26th ONLY.
The goal of this trial is to gauge if adding a color printer to the services offered by the TSC would be a viable permanent option to supplement color printing needs within schools.
During the trial phase, staff can use the color printer to print individual pages or class sets.
Staff should save files to a flash drive or bring hard copies to scan. (Electronic files will result in better print quality)
All printing must be educational materials
FREE classroom instructional materials, books, and more that will be available as supplies last.
All staff that are welcome, including all those who have previously registered. While you no longer need to make an appointment to work in the center, we will continue to use pick-A-time for use of the laminator and color printer, to ensure equitable access and to honor people's time.
Regular hours will begin Wednesday, September 1:
Wednesdays and Thursdays, 10 a.m. – 6 p.m.
Our Services
All HCPSS teachers and instructional staff can access the Teacher Support Center to laminate, create posters, die cut, create instructional materials, die cut, and browse instructional aides.
Teachers are welcome to bring their own paper or they can use our paper. There is no charge for paper, supplies, or laminating for HCPSS staff.
Location:
9645 Gerwig Lane
Columbia, MD 21046
Phone: 410-313-7013
Regular Hours of Operation:
Wednesday & Thursday 10 a.m. -6 p.m.
Contact: Brianne Miller
Die Cuts
The Teacher Support Center has a comprehensive collection of over 900 decorative dies from 1″ to 14″ and 7 different alphabetic fonts from 2″ to 10″. There are 70 different Resource and Culture boxes that can be borrowed. A variety of teaching/learning aides in Math, Science, Language Arts, and Social Studies are on display with master copies available.
Anything that can be cut with scissors can be cut on the die cut machines. Please no foam core board.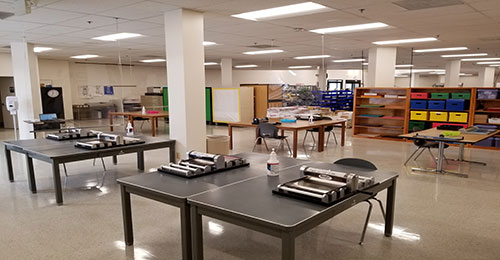 Materials the die cut machines will cut:
Cardstock
Compressed Sponges
Construction paper
Cotton fabric
Felt
File folders
Foam sheets
Foil
Magazine pages
Maps
Metallic tissue paper
Newspaper
Poster Board
Sandpaper
Tissue paper
Wallpaper
Note: If you want your die cut items to be laminated, laminate the paper first, if your die cut items are to be glued on to something else, laminate the whole thing when you are done.