Teacher Support Center
2023-2024 School Year
The Teacher Support Center (TSC) will reopen August 22-24 from 10:00 a.m.-6:00 p.m. Beginning Wednesday, August 30, the TSC will resume regular hours (Wednesdays and Thursdays from 10 a.m. – 6 p.m.)
Please note:
Appointment Times are required for laminating, color printing, and poster making.
Color Printing for an instructional classroom set of materials is available by appointment.
Select your time to visit & create: https://pickatime.com/client?ven=11616003
Our Services
All HCPSS teachers and instructional staff can access the Teacher Support Center to laminate, create posters, die cut, create instructional materials, die cut, and browse instructional aides.
Teachers are welcome to bring their own paper or they can use our paper. There is no charge for paper, supplies, or laminating for HCPSS staff.
Location:
9645 Gerwig Lane
Columbia, MD 21046
Phone: 410-313-7013
Regular Hours of Operation:
Wednesday & Thursday 10 a.m. -6 p.m.
Contact: Brianne Miller
Die Cuts
The Teacher Support Center has a comprehensive collection of over 900 decorative dies from 1″ to 14″ and 7 different alphabetic fonts from 2″ to 10″. There are 70 different Resource and Culture boxes that can be borrowed. A variety of teaching/learning aides in Math, Science, Language Arts, and Social Studies are on display with master copies available.
Anything that can be cut with scissors can be cut on the die cut machines. Please no foam core board.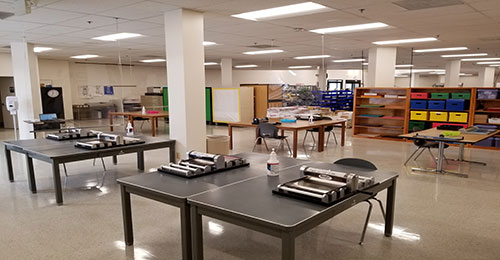 Materials the die cut machines will cut:
Cardstock
Compressed Sponges
Construction paper
Cotton fabric
Felt
File folders
Foam sheets
Foil
Magazine pages
Maps
Metallic tissue paper
Newspaper
Poster Board
Sandpaper
Tissue paper
Wallpaper
Note: If you want your die cut items to be laminated, laminate the paper first, if your die cut items are to be glued on to something else, laminate the whole thing when you are done.