Interested in leadership and essential life and career skills instruction, activities, and opportunities?
The Junior Reserve Officers' Training Corps (JROTC) provides a citizenship, character, and leadership development program for high school students. It is a cooperative effort between Howard County Public School System, the U.S. Army and U.S. Air Force. JROTC instruction prepares students in grades 9-12 for leadership roles while making them aware of their rights, responsibilities, and privileges, as American citizens through rigorous instruction and hands-on activities.
A student who wishes to participate in the JROTC program, but does not attend one of the schools that offers the program, may apply to the JROTC program at Atholton High School, Howard High School, and/or Oakland Mills High School. Each school has a limited number of spaces available for students who apply.
Location
Army JROTC is offered at Atholton High School and Howard High School. Air Force JROTC is offered at Oakland Mills High School.
Related Academies
Prerequisites
Students must:
Apply prior to the deadline and participate in an interview process. Check with the school counselor at your current school to get information about deadlines.
Be accepted to the program and must provide their own transportation.
Remain enrolled in the JROTC program at all times. Students who do not remain enrolled must return to their district high school. Students retain full athletic eligibility.
Certifications
Students are offered the opportunity to take the Armed Services Vocational Aptitude Battery (ASVAB) test and participate in the ASVAB Career Exploration Program.
Successful Academy Students:
Students participate in service-learning projects throughout the school year to learn about the value of serving other.
Developing Leaders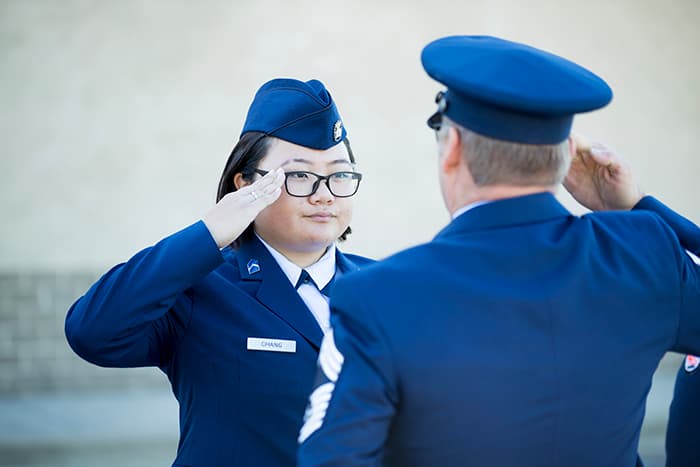 Army Junior Reserve Officer Training Corps
"To Motivate Young People to Be Better Citizens."
Air Force Junior Reserve Officer Training Corps
"Develop citizens of character dedicated to serving their nation and community."
Program Objectives
JROTC instruction supports the school system's focus on increasing the number of students who graduate ready for college and careers.
Leadership & Integrity
Develop citizenship, character, and leadership.
Serve their school and community and promote community service.
Graduate and pursue meaningful careers
Essential Life Skills
Foster goal-setting abilities and a positive self-image.
Improve physical fitness.
Effective Career Skills
Work as team members and learn to treat others with respect.
Communicate effectively.
Participating Schools
JROTC is available at the following three schools. Students at other schools may apply. Space is limited.
Atholton High
410-313-7065
6520 Freetown Road, Columbia, MD 21044
Principal – Robert Motley
JROTC Instructor - LTC (USA, Retired) William Reinhart, Senior Army Instructor, william_reinhart@hcpss.org
Army
Howard High
410-313-2867
8700 Old Annapolis Road, Ellicott City, MD 21043
Principal – Nick Novak
JROTC Instructor - LTC (USA, Retired) Patricia Marshall, Senior Army Instructor, patricia_marshall@hcpss.org
Army
Oakland Mills High
410-313-6945
9410 Kilimanjaro Road, Columbia, MD 21045
Principal – Jeffrey Fink
JROTC Instructor - Donald Felch, CMSgt, USAF (Ret), Aerospace Science Instructor, donald_felch@hcpss.org
Air Force
How to Participate in JROTC
Please note that some schools may require a written application essay or other pre-interview materials.
Schedule an Interview
Students must contact a JROTC official at school of interest to schedule an interview and submit an application if required.
Complete the Interview
Students will be interviewed by the JROTC instructor at their school of interest.
Register
Distribution of the approval/denial/waitlist letters will follow interviews.
If accepted into a program, students must contact the registrar office.
Suggested Course Schedule
Below is a suggested high school course schedule for students interested in the JROTC Academy

| Grade Level | Course 1 | Course 2 | Course 3 | Course 4 | Course 5 | Course 6 | Course 7 |
| --- | --- | --- | --- | --- | --- | --- | --- |
| Ninth Grade | English required | Mathematics required | Science required | Social Studies required | Fitness & Health required | Technology Education required | JROTC Army I or Air Force I |
| Tenth Grade | English required | Mathematics required | Science required | Social Studies required | Fine Arts available | Elective available | JROTC Army II or Air Force II |
| Eleventh Grade | English required | Mathematics required | Science required | Social Studies required | Elective available | Elective available | JROTC Army III or Air Force III |
| Twelfth Grade | English required | Mathematics required | Elective available | Elective available | Elective available | JROTC Army IV or Air Force IV | JROTC Army Advanced or Air Force Advanced |