Saturday Math Academy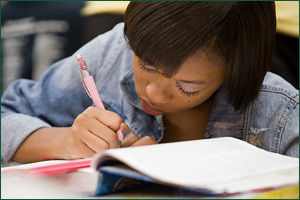 The BSAP Saturday Math Academy (BSAP-SMA) has been in existence since 1992. The concept began from a need voiced by parents who wanted their children to receive an "extra push" in mathematics. Parents felt their children needed a more intimate setting to have their skills identified by certified teachers. Parents also requested opportunities to meet other parents and learn strategies to help their children with mathematics at home.
The BSAP-SMA is designed to accelerate academic achievement in mathematics in a unique setting regardless of a student's academic level. Parents and SMA students identify achievement goals upon registration. Teachers review the goals and schedule time to provide as much individualized instruction as possible.
2015 Spring Session Information
The BSAP-Saturday Math Academy offers mentoring and tutoring in mathematics on Saturday mornings by HCPSS certified teachers.
Eligibility: Open to Howard County students in Grades 3-12.
Class Time: 9 – 12 p.m. on Saturday mornings.
Location: Oakland Mills High School Cafeteria

Spring 2015 Registration
On-site Registration: Saturday, February 7, 2015, 9:00 a.m. – 11:00 a.m. (On-site registration is required)
Fee: $45 (Registration fee is non-refundable.)
Registration is continuous until capacity is reached.
Location: Oakland Mills High School Cafeteria

What to Bring:
Copy of February 3rd Report Card
Latest IEP (if applicable)
Letter that documents receiving free or reduced meals (if applicable)
Checks, money orders and cash are accepted
Checks payable to: HCPSS – BSAP Saturday Math Academy.
(Please Note: Registration is not complete until all necessary documents have been received.)
Session Dates:
February 28
March 7, 14, 21
April 11, 18, 25
Contact/Questions: Jackie Jenkins, 410-313-1598
Print version of Spring 2015 Registration

information.
Parent Information Meetings
One hour parent information meetings are offered on selected Saturdays throughout each session. A wide variety of topics are offered such as:
Understanding the HCPSS elementary mathematics curriculum.
Understanding the HCPSS secondary mathematics curriculum.
Bullying/Cyberbullying – HCPSS policy.
Healthy foods/healthy choices.
Parent conference tips.
Using TI-83 calculators with your child.
Strategies for supporting your child in mathematics.
Parent Checklist For Registered Students
Follow the Six Ps of Excellence: Prompt, Productive, Polite, Persistent, Prepared and Proud
Students should arrive before 9 a.m., ready to start on time.
Students who arrive after 9:15 a.m. must report to the office for a late pass.
Supplies needed for instruction include:

Notebook and sharpened pencils.
Class work, books, tests, and questions for review.

All students will be walked outside for dismissal.
Math Web Site Resources
Elementary
Middle