Digital Education Center – Parent Information Session
← Digital Education Center Overview
Transcript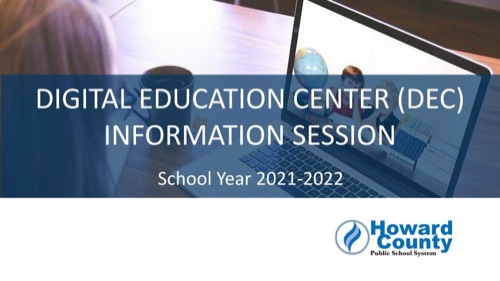 Slide 1
Welcome to the Digital Education Center information session webinar. We are very excited to share this opportunity with you!
The information shared in the this webinar is also available on the DEC webpage and through general and student FAQs.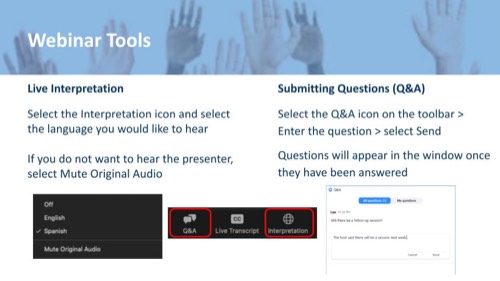 Slide 2
First, we are going to talk about the design of the Digital Education Center and how it will be different from the traditional and current hybrid learning models.
Second, families will be able to complete the Student Interest survey that is now available in Synergy. Throughout the session, we will provide information to help you decide if you think this is a good option for your child.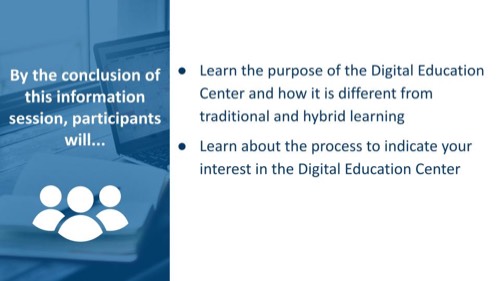 Slide 3
While the DEC is currently in the planning and design phase, we acknowledge that there are still many decisions to make for next school year.
Decisions about students returning in-person, hybrid or virtually next school year have not yet been finalized. This information will be shared as soon as it is available.
Final Board of Education budget approval will take place in May which will determine the final DEC scope and course options. If the DEC is not funded, students will remain enrolled in their designated home school.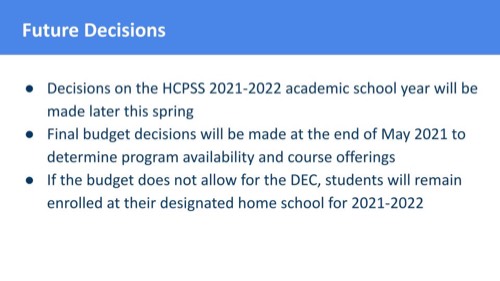 Slide 4
The DEC program provides an alternate option for students entering grades K-12 who are not ready or not able to return to in-person learning, as well as those who have found success during virtual instruction and prefer a virtual instruction model.
The DEC is a full-time program and students would be enrolling for the entire 2021-2022 school year, with the option to participate, or not, in future school years.
DEC students will access real-time, synchronous instruction and complete digital assignments while receiving support services from both the DEC and the student's designated home school.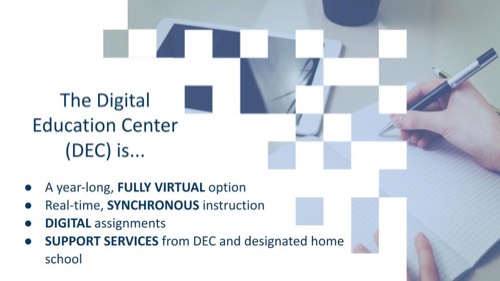 Slide 5
So how does the DEC compare with other HCPSS instructional models?
The main difference between traditional, in-person, courses and the DEC is the delivery of instruction which will be a virtual model. The proposed DEC has synchronous virtual instruction while the current hybrid model has both in-person and virtual instructional concurrently during the day.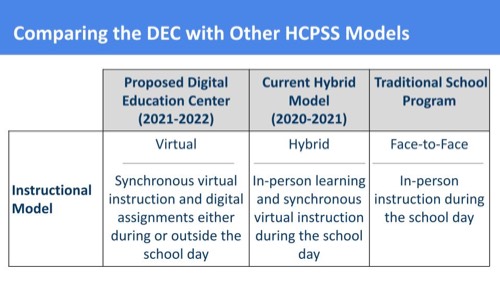 Slide 6
And the DEC will be staffed by HCPSS administrators, teachers, and support staff and will be teaching in a virtual model. This is different than the hybrid, concurrent teaching, model or the traditional in-person teaching model. Unlike other fully online courses, the DEC will have real-time learning, not self-paced, asynchronous instruction.
You can view other key differences in the online comparison chart on the DEC webpage.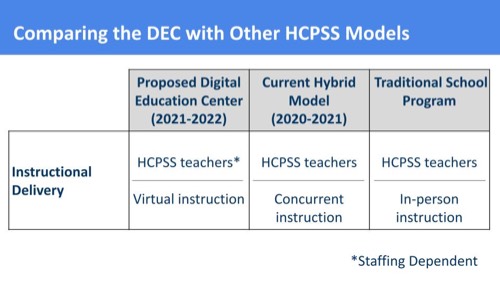 Slide 7
As an education center, students will continue to be "enrolled" in their designated home school and will be able to participate in extracurriculars and athletics.
And while the DEC will provide 504 accommodations and services and special education and related services virtually, there may be some services that can only be provided at a physical location or through a face-to-face provider.
The Digital Education Center is a virtual program and therefore meals will be available for purchase, or provided free or at reduced-price, at the student's designated home school.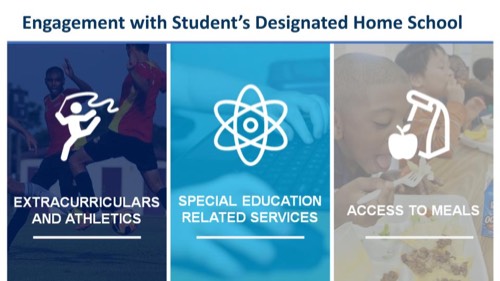 Slide 8
The DEC will have a rigorous academic program with courses that meet the same standards as all HCPSS curricula. As a virtual program, the DEC will be able to provide additional flexibility for students.
While high school courses will be available between 8:00 a.m. and 8:00 p.m. Monday through Friday, most middle and elementary courses will be during traditional school hours.
Some courses will be offered on a quarter or semester schedule, while others will be year-long. This scheduling flexibility can provide additional continuity for math, English, world language, and other subjects. Once enrolled, a school counselor will work with families to develop their child's final DEC schedule.
Next, we are now going to look at a few sample course lists and schedules. Our curriculum staff are working to determine which courses will be most appropriate for virtual learning at each grade level. And although there will be many course options, NOT ALL COURSES in the catalog will be available in the first year.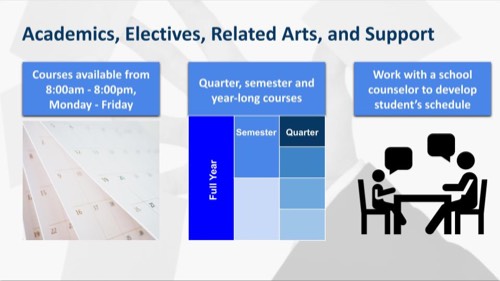 Slide 9
Core content classes that meet high school graduation requirements will be available. Electives and extensions will be based on the number of students requesting those courses from this spring's course request process.
Because transportation is limited, JumpStart and Career and Technical Education programs are limited to HCC-based JumpStart courses and CTE courses that are available in a virtual model. In-person courses that are taught at the ARL may not be available due to scheduling conflicts. And for some Advanced Placement and low-enrollment classes, the DEC may need to use asynchronous, fully online courses for instruction.
Student supports will be available for math, reading, ESOL, Section 504, and special education.
Slide 10
This sample schedule of a typical 10th grade student shows their Monday through Friday schedule of core content classes for graduation as well as student supports.
CTE, English, science, and social studies are taken in a semester schedule with math and world language on a year-long schedule. This student would receive their related services during the day through the DEC or their designated home school.
Although six classes are shown in this example, students will still be able to schedule seven classes each year.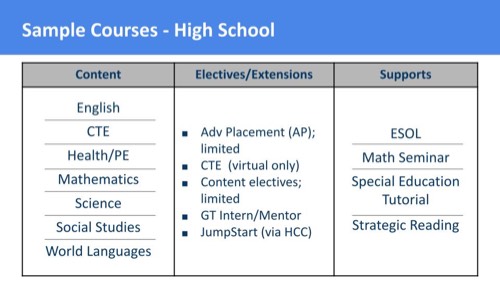 Slide 11
The next sample schedule is for a 12th grade student who has a CTE apprenticeship during the school day, Monday through Friday. This student would be scheduled to take their English graduation requirement on a semester schedule with math on a year-long schedule. An additional Art elective is scheduled in the spring. Because of their morning apprenticeship hours, both of these courses would be taken in the extended day and evening periods.
Scheduling high school students in the extended day or evening periods would be an option to consider based on each student's unique needs.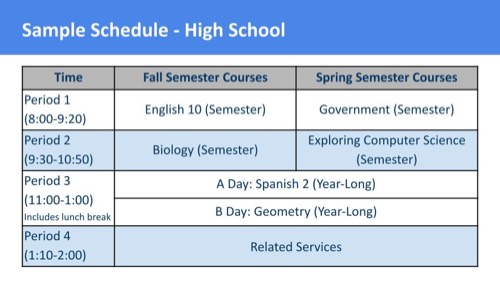 Slide 12
Core content classes in English Language Arts, math, science, social studies, and an option for Spanish will be available for middle school students. Required related arts and some supplemental related arts and extensions will be available based on the number of students requesting those courses during the spring. Student supports and extensions include ESOL, reading and math seminars, special education support, and GT enrichment, when available.
Middle and high school students currently in orchestra, band, and chorus may participate in music beyond the school day at their designated home school. And in some cases, students may access a virtual class if it is available through the DEC.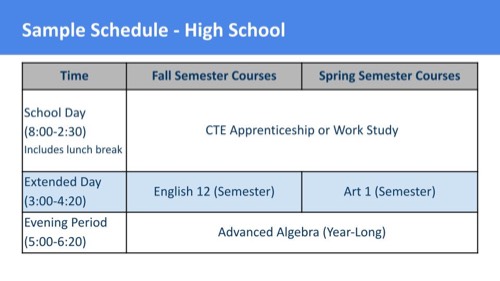 Slide 13
This sample schedule of a typical 7th grade student again shows some core courses on a semester schedule and math and English Language Arts on a year-long schedule. This student would receive additional reading and math support in their DEC schedule and would finish their instructional day with enough time to participate in extracurricular activities at their designated home school.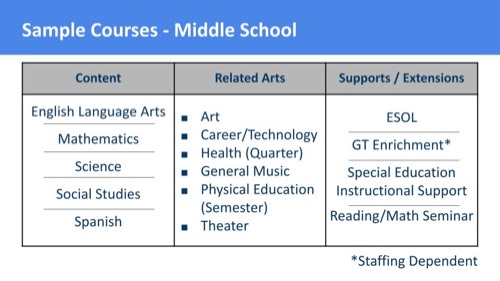 Slide 14
Elementary content, related arts, and supports and extensions will be very similar to what is currently offered in elementary schools. Teachers will work with students, staff and families, once enrolled, to determine each student's individual supports and extensions.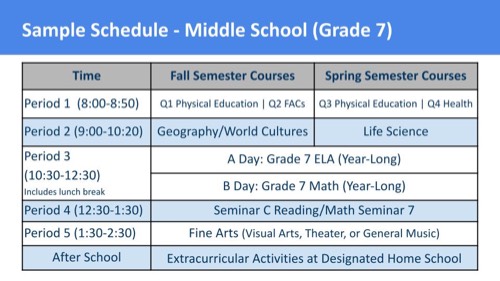 Slide 15
Elementary courses will remain year-long. Students will have one block of social and emotional learning and a reading and writing block that will provide time for the teacher to meet with individual reading groups.
Other blocks will include mathematics instruction as well as time for students to complete independent work. In this example, students will access other core content blocks and related arts in the afternoon. Should students need additional supports, they will be available from both the DEC and their designated home school through academic intervention and tutoring.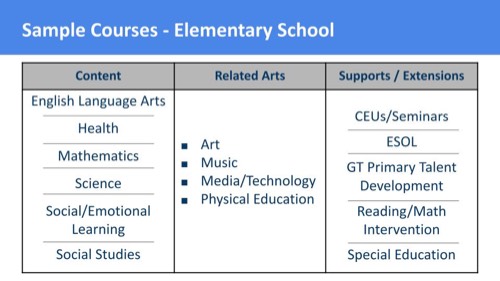 Slide 16
DEC students can still access other HCPSS supplemental programs such as JumpStart courses based at HCC and after school academic intervention, tutoring, and credit recovery courses, where appropriate.
And students can still accelerate their learning through asynchronous, fully online courses, evening, and summer programs.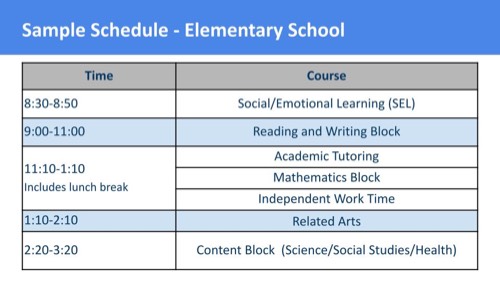 Slide 17
We encourage all of our students and families to take a moment to reflect on the following statements. The Digital Education Center could be a great fit for your children if one or more of the following statements is true.
Is your child experiencing success academically or does the flexibility and independence of virtual learning meet their needs? Do healthcare concerns make this the best option for your child?
Talk with your student about their experiences this year during virtual learning and use the information provided to help make the best decision possible, with the understanding that not all courses and programs will be available, and that it is a full year commitment.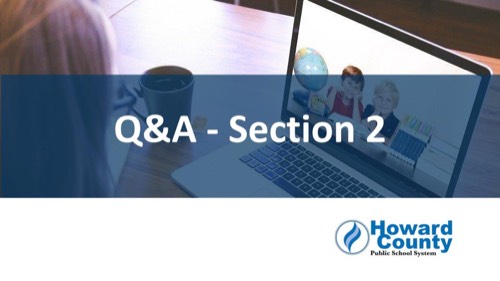 Slide 18
There are a few items to highlight on the DEC timeline:
The first step is to complete the student interest form, which is available now in Synergy and will remain open through April 14th. A SchoolMessenger email with directions was sent out today at 12:45. We urge families to complete the interest form even if you're not yet sure you want to enroll your child in the program. The better we understand the interest in the DEC, the more we will be able to respond to the needs of our community.
Second, we know how important this decision is, so that's why we will be offering additional level-specific information sessions April 20th through 22nd which will provide more detailed course lists and schedules.
Third, once parents/guardians have reviewed all of the information and have determined that the DEC is the best plan for their child, they can submit a priority enrollment form through the Synergy Parent Portal beginning April 21st through May 5th. We need an early priority enrollment deadline to make sure that we are ready for students and have the right number of teachers and courses for the program.
After the priority deadline passes, we will only be able to enroll students in the DEC if there is remaining space available.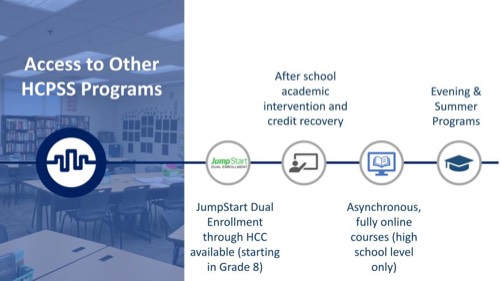 Slide 19
The Student Interest form is a one-question interest survey and answering this question is not a commitment for the 2021-2022 school year. You will need access to your Synergy account to complete the survey and there are four easy steps.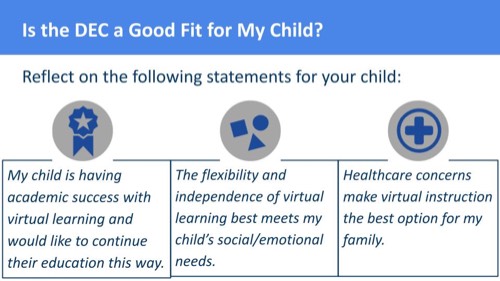 Slide 20
Again, to complete the Student Interest Form,
First, log in to HCPSS Connect Synergy. Second, select More Options from the left panel. Third, select Digital Education Center Interest Survey from the bottom of the menu. And fourth, complete the single question in the form for each child. If you have more than one child, use the dropdown to view each child, choose your option for that child, and then select Submit.
Please contact your school if you require assistance completing the form.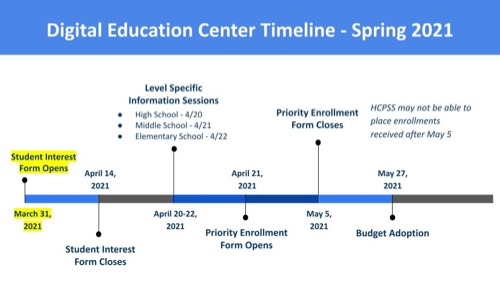 Slide 21
To summarize our current and next steps:
Complete the Student Interest form by April 14th – this is not a commitment; information will be used to gauge interest in the program.
Attend one of the optional, level-specific virtual information sessions in late April to learn more specific details about the DEC course and schedule options. Be on the lookout for an HCPSS News Announcement with webinar registration details.
If the DEC is the right program for your child, complete the Priority Enrollment Form. This will be available in Synergy on April 21st and would need to be completed by May 5th.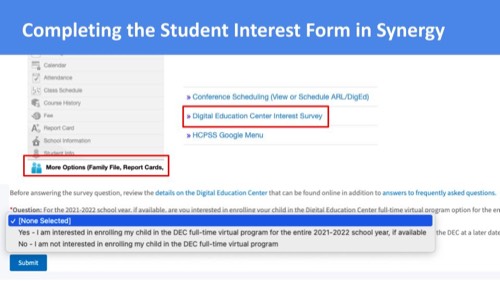 Slide 23
Thank you for your time throughout this presentation and we look forward to working with your student.