Technology Use in HCPSS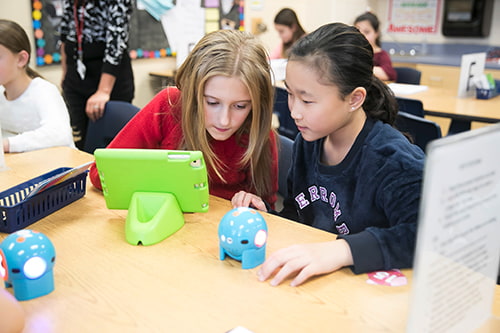 HCPSS believes that technology can enhance all aspects of learning, prepare students for a 21st-century workplace and has become an everyday tool for today's youth. The HCPSS vision for integrating technology into curriculum and instruction is that students and staff leverage technology to enhance authentic learning experiences and expand their ability to be empowered learners and collaborative global citizens.
HCPSS staff are expected to provide inclusive access for all students and protect the data privacy of all students and staff. When integrating technology into instruction, HCPSS promotes collaboration, authentic learning, application of knowledge and skills, inquiry, and perseverance.
HCPSS permits students to bring personal technology devices to school for instructional or personal use.
All device use in school for instructional or personal use will be at the discretion of school administrators who will work with their staff to set and manage expectations for personally-owned technology use in classrooms and public spaces during the school day.
At the elementary school level, school administrators and staff may require personal technology devices remain in students' backpacks during the school day.
At the middle and high school levels, school administrators and staff may establish rules specific for their school for personal technology use during class transitions, lunch and special events.
Students, with parent/guardian permission, assume full responsibility for their devices including safety, security and maintenance.
HCPSS is not responsible for any charges to user accounts that may be incurred during approved school-related use.
Staff Expectations
Leverage instructional technology in ways that ensure equity and are beneficial to cultivating 21st-century learners
Communicate to students and families the expectations for student device use in school, and times when devices will be permitted
Identify and communicate times when devices are not permitted (during testing, in restrooms, etc.)
Leverage effective classroom management strategies to ensure students are on-task when using technology in the classroom
Model appropriate and responsible use of technology and social media at all times
Provide technology needed for instructional use for students as necessary
Student Expectations
Use technology in a responsible, civil, ethical and appropriate manner to enhance learning
Comply with all applicable laws, the Student & Parent Handbook, Student Code of Conduct, all class and school rules, and relevant HCPSS policies including policies 1040, 2070, 9020. Any violation or disruption to instructional and educational activities may result in disciplinary action
Adhere to the direction of staff when asked to turn off or put away devices at any time during the school day
Connect to the HCPSS-Wireless network for internet access
Do not engage in personal use of devices during instructional time or use devices in bathrooms or locker rooms
Abstain from online bullying or harassing behavior
Do not allow technology to interfere with student work, cause disruptions to the school or work environment, or result in additional costs to HCPSS
Parent and Guardian Expectations
Help your child understand the expectations and policies guiding student devices at school
Monitor your child's online and social media behavior, at school and at home
Collaborate with school administrators when concerns arise regarding possible misuse of technology devices
Understand that you are not required to provide your child with a device for instructional use, as technology will be provided when needed