Work Study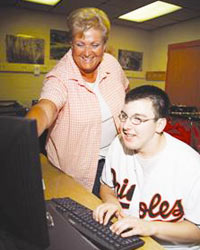 Work Study is a structured, supervised work experience in a business or other community organization. Participating students receive special education services and demonstrate independent work skills. A teacher works closely with the student and the employer to ensure satisfactory job performance.
Work Study experiences are invaluable in helping students:
Develop skills, habits, and attitudes needed for success on the job.
Identify work interests and realistic career goals.
Build self confidence.
Eligibility
Students age 16 and older with an Individualized Education Plan (IEP).
Employer Role
Provide a paid or training (unpaid) job appropriate to student's abilities and vocational interests.
Complete monthly evaluation forms.
Collaborate with Work Study teacher.
Benefits to Employer/Organization
Personal satisfaction gained through helping student enter productive workforce.
Teacher monitors job performance weekly at job site.
Job may be training (unpaid).
Many students continue employment with firm after graduation.
Logistics
Ten or more hours per week at job site throughout school year.
School system provides transportation.
Contact
"The Work Study program has allowed my son to explore work experience in an area of interest to him. He has gained increased confidence in his abilities as a result of this positive work experience."
– Theresa Thaler, Parent