Community Connection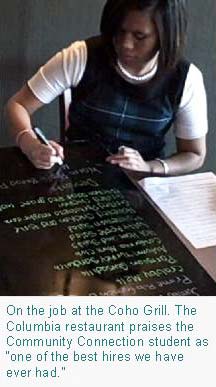 Community Connection eases the transition to independent adult life for post-high school students with mild to moderate disabilities.
The program, located on the Howard Community College campus, helps students develop the skills essential for success in work, social, and community environments:
Finding employment.
Workplace skills.
Financial literacy (money management, budgeting, and shopping).
Appropriate behavior in work and social settings.
Navigating independently.
Self advocacy.
Recreation and leisure.
Students sharpen these skills while working and functioning in the community, with guidance and support from Community Connections staff.
Student Eligibility
Able to function independently with minimal supervision.
Demonstrate satisfactory attendance and behavior.
Typically have completed at least four years in high school.
Receive Maryland High School Certificate of Completion (rather than diploma).
Employer Role
Provide a paid or training (unpaid) job appropriate to student's abilities and vocational interests.
Complete monthly evaluation forms.
Collaborate with Community Connection teacher.
Benefits To Employer/Organization
Personal satisfaction gained through helping student enter productive workforce.
Teacher monitors job performance weekly at job site.
Job may be training (unpaid).
Many students continue employment with firm after completion of program (at age 21).
Logistics
10 or more hours per week at job site throughout school year.
School system provides transportation.
Contact
Dawson Robertson – 410-313-5640
Transition Services/Work Study Program
Deborah Ward – 443-518-4479
Community Connection, Howard Community College
"We are very glad we met with the Community Connections program… Their continued support and assistance in finding us an employee that is a good match for our type of business has been a great help."