HCPSS 2020-2021 Reopening Reports
The HCPSS Reopening Plan details the school system's plans for all aspects of the fall instructional program and information related to student supports. It also includes provisions for supporting student and staff well-being; diversity, equity and inclusion; expectations for staff, students and families; and other components.
Meeting the MSDE requirement to post the document by August 14, the 2020-2021 Reopening Plan was posted on August 12, 2020. An updated plan was posted online and sent to MSDE on September 17, 2020.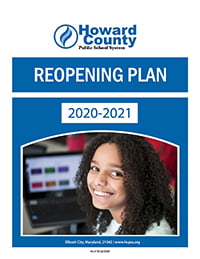 2020-2021 Reopening Plan
169 pages, 3.4 MB PDF | Updated: September 17, 2020
Return to the Workplace Health & Safety Guide
The HCPSS Return to the Workplace Health & Safety Guide is based on the guidelines provided in the Maryland Together: Maryland's Recovery Plan for Education, adheres to the phased reopening guidelines outlined by Governor Larry Hogan in Maryland Strong: Roadmap to Recovery, and aligns with CDC and Howard County Health Department guidance. This information will continue to be updated as we learn more and establish new practices and policies.
The following guidelines are applicable to all HCPSS facilities, including school and administrative buildings.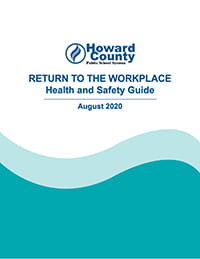 2020-2021 Return to the
Workplace Guide
15 pages, 1 MB PDF | Posted: September 3, 2020