2020-2021 School Year – Elementary School
The 2020-2021 virtual instruction model provides students with, on average, 3 hours of synchronous learning with their teachers four days each week. The remaining instructional time is designated for students to complete asynchronous learning activities and assignments.
Students also have daily opportunities to access additional synchronous supports.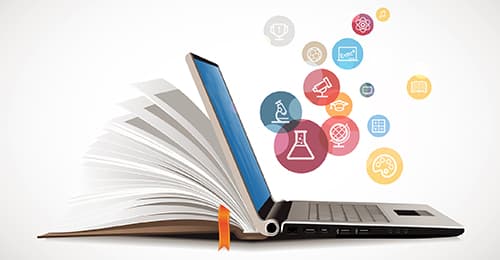 Pre-K Students
In the virtual instruction model, prekindergarten students will engage in daily synchronous lessons four days a week. Lessons will be interdisciplinary in nature, with a focus on literacy, science, social- emotional learning and mathematics, and will be delivered in both the small- and whole-group setting.
Small-group instruction will be differentiated to meet the individual needs of learners, while whole- group instruction will allow students the opportunity to interact with their classmates in an inclusive setting.
Teachers will utilize the Connect4Learning curriculum to deliver instruction through Google Meet.
Students also will engage in asynchronous learning activities and assignments using the Canvas learning management system. Depending on the type of pre-K program, students also may engage in asynchronous eLearning assignments. Asynchronous learning activities will be aligned to the Maryland Early Learning Standards (language & literacy, mathematics, social studies, science, healthy, physical education, fine arts and social foundations) and current units of instruction in the Connect4Learning program.
K–5 Students
Students in grades K-5 will engage in synchronous lessons four days a week via Google Meet in Social Emotional Learning (SEL), language arts and mathematics.
Students will engage in science, social studies or health via Google Meet two days each week. During the second quarter, students will engage in asynchronous and synchronous health content work.
Elementary students also will engage in related arts synchronous lessons via Google Meet two days each week. The related arts classes will rotate each week so that students will participate in art, music, physical education, technology and library media.
Elementary students will engage in synchronous lessons 2.5-3 hours on each of the four synchronous days. For each synchronous lesson, students are expected to participate in the lesson, respond to questions and participate in class activities.
In addition, elementary students in grades K-5 will engage in asynchronous assignments, (e.g. science, social studies, and related arts follow up tasks; independent reading; writing assignments; mathematics tasks and eLearning experiences with Lexia Core5 and DreamBox) for 8-9 hours each week.
Teachers will post asynchronous weekly assignments and eLearning experiences by Monday at 8:30 a.m., and which will be due by the start of class the following Monday.
Modified Schedules for Early Dismissal Days
Pre-K – Scheduled Three Hour Early Dismissal Virtual Schedules
Full Day Pre-K
Student Day: 9:00-12:05
9:00-9:30 – Whole Group Read Aloud and Connect
9:30-10:00 – Synchronous Supports
10:00-10:30 – Break & Asynchronous Work
10:30-10:50 – Small Group 1
10:55-11:15 – Small Group 2
11:20-11:40 – Small Group 3
11:45-12:05 – Whole Group Fast Focus & Closure
Half-Day Morning or Afternoon Pre-K
There is no half-day Pre-K/RECC during Quarter 3 early dismissals.
Grades K-5 – Scheduled Three Hour Early Dismissal Virtual Schedule
Student Day: 9:00-12:45
| | | | | | | |
| --- | --- | --- | --- | --- | --- | --- |
| | Grade K | Grade 1 | Grade 2 | Grade 3 | Grade 4 | Grade 5 |
| 9:00-9:30 | Mathematics | Language Arts | Mathematics | Language Arts | Mathematics | Language Arts |
| 9:35-10:20 | Synchronous Supports | Break & Asynchronous Work | Related Arts or Content* | Synchronous Supports | Break & Asynchronous Work | Related Arts or Content* |
| 10:25-10:55 | Language Arts | Mathematics | Language Arts | Mathematics | Language Arts | Mathematics |
| 11:05-11:50 | Related Arts or Content* | Synchronous Supports | Break & Asynchronous Work | Related Arts or Content* | Synchronous Supports | Break & Asynchronous Work |
| 12:00-12:45 | Break & Asynchronous Work | Related Arts or Content* | Synchronous Supports | Break & Asynchronous Work | Related Arts or Content* | Synchronous Supports |
If students have two related arts classes on the scheduled half day, the related arts classes will run as follows:
Grades K & 3: Related Arts 1: 11:05–11:25, Related Arts 2: 11:30–11:50
Grades 1 & 4: Related Arts 1: 12:00–12:20, Related Arts 2: 12:25–12:45
Grades 2 & 5: Related Arts 1: 9:35–9:55, Related Arts 2: 10:00–10:20