Resources and Benefits
The HCPSS is the largest employer in the county, with a current work force of 7,800+ employees and a 50,000+ student population. Hiring for 74 public schools, administrative offices and other educational support services, is a centralized process managed through our Office of Human Resources.
Employee Benefits
The HCPSS offers competitive benefits including:
Paid Sick, Holiday and Annual Leave – if eligible
Sick Bank Options
Salary Advance Program - for new hires
Tuition Reimbursement – for field-related coursework or degree
Year-round Salary Option – pay dispersed over 12 months
Business Partnerships – discounts for area programs, products and services
Child Care – Employees' Child Development Program
Leadership Development Opportunities
Employment-related News
Get Connected! – Sign up to receive employment-related news from HCPSS News. To subscribe, check the box next to "Office of Human Resources" and then complete the subscription form. Be sure to check both boxes in the Terms and Conditions section before clicking on Subscribe.
SmartFindExpress

SmartFindExpress – Current substitutes may access job opportunities and receive assignment confirmations through eSchool Solutions SmartFindExpress. Once an employee has been hired and processed into the HCPSS, they are registered for a SmartFindExpress account. SmartFindExpress jobs may be viewed online and assignment confirmations received via email and telephone.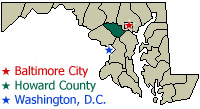 Howard County Information